Fall Foliage Travel in New England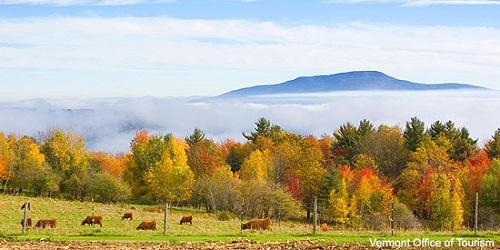 Timing Your Foliage Trip:
Leaves change color because of a combination of warm days and cool nights. This can vary based on rainfall and other climate factors. Watch the New England Foliage Maps and Reports.

Find great travel tips and forecasts at Jeff Foliage
Peak color usually arrives at Columbus Day (mid-October).
Colors change earlier – September to mid-October -- at higher elevations and more northern locations (Maine, New Hampshire, Vermont).
Colors changes later – mid-October to early November -- at lower elevations and more southern locations (Massachusetts, Rhode Island, Connecticut).
What to Pack: Clothing and Gear
Prepare for cool evenings with a sweater, sweatshirt, long pants and sleeves.
Bring sturdy shoes or hiking boots to wander dirt road or meadows. This is not flip-flop country.
Bring ponchos and walk in the drizzle or rain – wetness can make the colors pop!
Bring camera, batteries, bug spray (even though this is not a bug-heavy season), sunscreen
Bring a lunch bag – lots of country stores can sell you sandwiches and treats. Bring a picnic blanket for impromptu side-of-the-road stops
Other Tips:
When driving, be considerate of others. Pull all the way off the road if you want to stop for a moment of viewing or picture-snapping. Respect "posted" signs but don't be afraid to wander. Take a road map and explore some of the back roads. Look for roadside signs for farm stands, parks, and public wilderness areas. Drive to the farm or park, get out and stretch, and look around. Ask local people at the gas station or restaurants where to find good vistas.