New England's Beaches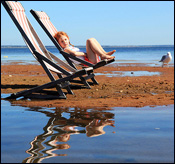 New England has always been loved for its beaches. From smooth sand to rocky coasts, high ocean waves or cool fresh water lakes, this part of the country has a beach for just about everybody. A summer day on a New England beach brings out fishermen, swimmers, sun worshippers, surfers, water-skiers, naturalists, birdwatchers, boaters. Make your beach getaway perfect by spending a night or two at a beach or ocean resort.
Click Here for New England Tide Charts and Tide Tables
Long Island Sound offers beach-goers a calm experience: very little waves and undertow for bathers, and big, sandy beaches like you find on the ocean. This part of Connecticut offers visitors the most beaches of any part of the state, including state parks and small community beaches set on little inlets and coves. Since the boating community is very active here, you will find plenty of easy opportunity to reach the region by boat, as well as by more traditional means.
Where Long Island Sound ends and the Atlantic Coast begins in New England, South County is probably the region's best kept oceanfront secret. Swimmable water, high ocean waves and 17 sandy beaches await visitors. Those who prefer the entertainment of a busy summer spot will enjoy Misquamicut Beach in Westerly, with its boardwalk attractions, nightlife and numerous hotels. Smaller community beaches and state parks along the shoreline offer smaller crowds, picturesque sand dunes, and great opportunities for bird-watching.
Newport is so well known for its other attractions and historic sites, that the beaches there are often overlooked. Visitors will enjoy sand and surf along Narragansett Bay and directly on the Atlantic. Of particular note is Fort Adams State Park, which features a beach alongside a tourable 19th century fort.
Certainly the most popular of New England's tourism areas, millions of visitors every year brave the traffic to enjoy Cape Cod's beaches. The area actually offers a variety of choices: The peninsula that is Cape Cod, Massachusetts juts out like a hook into the Atlantic, with the bay side featuring calmer, more tranquil beaches, and the outer cape offering high bluffs, higher waves, and often rough currents. The magnificent Cape Cod National Seashore stretches along the ocean side of Cape Cod and encompasses several beaches and two very informative visitor centers. Within the national seashore, are 40 miles of pristine sandy beach, marshes, ponds, and uplands. Lighthouses, cultural landscapes, and wild cranberry bogs offer a glimpse of Cape Cod's past and continuing ways of life. Swimming beaches and walking and biking trails beckon today's visitors.
The islands of Martha's Vineyard and Nantucket are reachable only by private boat, public ferry, or air, and visitors find more rustic and remote beaches, panoramic ocean views, and lighthouses. Aquinnah Beach (also known as Moshup Beach or Gay Head Public Beach) on Martha's Vineyard is known for the majestic Aquinnah Cliffs. The island of Nantucket is home to the Coskata-Coatue Wildlife Refuge, known for its historic lighthouse, white sand beaches, and world-class fishing.
People from "away" are sometimes surprised to learn that New Hampshire even has ocean shore, but it does, 13 miles of it. The most popular beach area north of Boston, the New Hampshire seacoast features dramatic ocean waves and cool water. Beaches vary in style: Hampton Beach is the area's commercial boardwalk, while smaller state parks offer less crowded oceanfront, and ample opportunities for bird-watching and observing nature. Many beaches are good for families and they offer lots of classic summer beach fun, including beach food, free outdoor music, and special events.
The South Coast is home to Maine's sandy beaches. These long, beautiful beaches are accented by lighthouses, rock outcroppings, and dunes. Each towns' beach has its unique qualities. In Wells there is seven miles of flat, wide sand beach. Ogunquit's is about half as long but second to none for its beauty. The Yorks has Long Sands Beach to enjoy, and exploring the shoreline of the Kennebunks is a delight. For old-time beachside amusements don't forego Old Orchard Beach.
Beaches dot the entire Maine coast, and Midcoast Maine serves as an elegant microcosm of the state: Charming New England fishing villages with small beaches. This far north, the vast sandy beaches are gone, replaced by the rocky coastline that has helped make Maine famous. The water is often too cold for swimming, although many beaches do make it available, and the abundant wildlife makes nature-watching a joy,
Northern Vermont is the home of Lake Champlain, New England's largest lake, which has a long and dramatic history as a nexus of commerce and warfare in the early days of New World explorations and during the American Revolution. The lake straddles the border between Vermont and New York, and all along its eastern shoreline visitors will find state parks with beaches, camping, and lakefront activities. The Lake Champlain Islands are a string of narrow islands down the middle of the lake, with wonderful shorelines and vistas and beaches all along the way. On the Vermont side, the backdrop is marvelous: A view of New York's majestic Adirondack Mountains.
The most popular of New England's many glacial lake areas, Lake Winnipesaukee and neighboring Squam Lake and Newfound Lake offer visitors cool, clean lake swimming, relaxing waterfronts in a variety of community beaches and state parks. Some are more commercial, others more remote, all set among quaint New England villages and picturesque rural countryside.