Country fairs, music and food festivals in New England are fun for families
New England fairs and festivals offer affordable, family friendly fun year round. Discover the newest art, crafts, music, and film. Enjoy live blues, folk, bluegrass, and jazz music. Shop for handmade art and crafts and find vendors selling celebrated New England food like maple syrup, blueberries, cheeses, ice cream, seafood, barbecue, craft beer and wine. Take a fun peek into world cultures at Scottish, Celtic, Italian, Portuguese, Asian, and French Canadian celebrations. Classic cars, books, and glowing hot air balloons are some of New England's favorite festival treasures.
To find more events, visit our Events Calendar.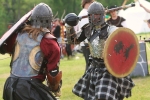 Dodd Stadium - 14 Stott Avenue Norwich, CT, 06360 Phone: 860-478-5954
Now at its new location in Norwich, CT! New England's Old England<br>Saturdays, Sundays and Columbus Day, Sept. 27 to Oct. 26, 2014
The Renaissance Faire returns to southeastern Connecticut for five consecutive weekends and Columbus Day. Don't miss one of the state's most popular tourist destinations complete with knights in shining armor, fair maids, jousting, comedy, games, archery, rat circus, fire eaters, rope walkers, birds of prey demonstrations, interactive characters from history, contests, and continuous themed entertainment on nine stages – and all shows are included with your admission!

Shop in New England's largest medieval marketplace featuring handcrafted and unique items you can't find anywhere else. Feast like a king on turkey legs, bread bowl stews, cheesecake, and many other delectable food options and then wash it all down with an ice-cold craft beer from Thimble Island Brewery.

Make The Connecticut Renaissance Faire your family tradition this fall. It'll be the event you look forward to all year long.

Hours: 10:30am-6pm. Parking: Free of charge. Tickets: General (Ages 16+) $17, Youth (7-15) $10, Children 6 & under FREE. Call or visit our website for directions, discounts, special events, shopping & more!
Main Street and other locations Ogunquit, ME Phone: 207-646-2939
October 24-26, 2014
Weekend festival including scarecrow contest, costume parade, high-heels and bed races, pumpkin and cookie decorating, scavenger hunt, ghost stories, marketplace and much more. Admission is free.
Old Deerfield and nearby areas Deerfield, MA Phone:
October 31-November 2, 2014
Two days of orchard tours, cidermaking and tastings, workshops and much more for people who love apples, fresh or hard cider, apple cuisine, apple orchards or just being in New England in the fall. Major events of the festival include an amateur cider competition; cidermaking workshop; The Marketplace at the Shelburne Buckland Community Center in Shelburne Falls, with local artisans and producers; The Cider Salon hard cider tasting; locavore harvest supper at Shelburne Buckland Community Center in Shelburne Falls; British cider tasting; cider and cheese pairing; apple pancake breakfast; apple-themed cooking demo.
Various locations Dennis, Falmouth, Hyannis, MA Phone:
October 4 - November 1, 2014
This festival showcases local art and culture, including live performances by local musicians; open houses at theaters, museums, and historical sites; readings and lectures; art activities for children; guided art and heritage walks; plein air painters; special art exhibits; and much more. See website for schedule of events.
14 Stott Avenue Norwich, CT Phone:
September 27- October 26, 2014
Escape thy cares and experience a romantic age lost to time with jousting knights, period music & dance, interactive characters, magicians, comedy, and continuous live shows throughout the day included with admission. All the Faire is a stage surrounded by the bright colors of fall and pageantry of the Renaissance. Time: 10:30 a.m.-6 p.m. Cost: Adults, $17; youth, $10; parking, free.