Independent bookstores take readers deep into New England words and traditions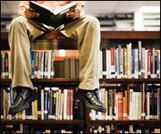 People who love to read: don't miss any chance to visit an independent bookstore on your travels in New England. All states have great small bookstores, where you may find local authors reading their works, knowledgeable staff members, lots of choices for kids, restful corners to read and explore, and a purely welcoming atmosphere. Many are near dozy coffee shops or restaurants where you can retreat with your booty.
Then get out and explore the region at wonderful
events
,
fairs and festivals
, and
museums.
Block Island Water Street New Shoreham / Block Island, RI Phone: 401-466-8878
As fans know, Block Island bustles in summer and rolls up the sidewalks in winter. This small bookstore with an extensive collection – and ability to order and receive anything you request in a flash – operates year-round, keeping the Island well-stocked in literature. This is not a place to find trashy beach novels that you can get in the book rack at the drug store. Island Bound stocks the island's widest variety of fine literature for all ages, and also everything you could want about Block Island: boating, cooking, gardening and more. A children's section offers fun activities for rainy days. You also will find puzzles, games, art supplies, stationery and cards, craft kits and reading glasses. Open daily, year-round, with limited hours January through March.
2568 S Main Street North Conway, NH Phone: 603-356-3200
This store, founded in 1992, looks like a super-quaint knick-knack shop, but once you walk through the door you will see it is packed with book-loving people and knowledge. And books! The stock is complete collection of all the latest bestsellers, hot reads and literary stars, lots of local authors, a big children's department and a unique card department. Monthly happy hour is on fourth Thursdays of the month, with specials, munchies, beer, wine, and 15% off the featured books of the night. Open year-round.
5247 Shelburne Road Shelburne, VT Phone:
Stepping away, for a moment, from the customer's vantage point, let's note that The Wall Street Journal chose The Flying Pig as one of seven bookstores around the country that help serve as anchors for their wonderful towns. The bookstore's collection is not huge, but it is well-chosen and staff members helpfully direct you. Co-owner Elizabeth Bluemle's book, "Tap Tap Boom Boom," was chosen for the New York Public Library's 100 Best Children's Books of 2014, and staff member write for Publishers Weekly about children's books and bookselling, so you know they know about children's literature.
1 Monument Way Portland, ME Phone: 207-772-4045
As is the case with independent bookstores generally, customers love Longfellow Books on the Old Port neighborhood because of its intimacy, its knowledgeable and helpful staff, and a good assortment of new and used books, including best sellers and titles that are more obscure (its poetry section has won praise). The store has a helpful Staff Picks shelf, lots of chairs for lounging, a kids' section, no fewer than four specialized book clubs, and an in-house cat, whom you may adopt, through appropriate channels. Greeting cards, too.
107 Pleasant Street Marblehead, MA Phone: 781-631-7199
Like the best independent bookstores, The Spirit of '76 Bookstore in the coastal town of Marblehead reflects the history of its place. A town with a long seafaring history, Marblehead also is home to the famous "Spirit of '76" painting. The bookstore offers many titles on Marblehead, like photographer Eyal Oren's "Wednesdays in Marblehead" and "Discovering Marblehead," a treasury of pictures. The store has offers a wide range of fiction and non-fiction, lots of help from the "Staff Picks" display, a large children's section and 50 lines of high-quality greeting cards.
10 N. Main Street Kent, CT Phone: 860-927-4104
House of Books considers itself the literary landmark of this perfectly beautiful and classic Litchfield town. As early at 1915, a committee of book lovers met here to plan opening a free library in the town. Today, the bookstore, founded in 1976, offers high-quality literature, books on art, history and politics, biographies, fiction, and a special room with children's books. Kent is on the Appalachian Trail, and the store offers lots of maps, trail guides, books on local lore and the out-of-doors. You will find board games, art supplies, puzzles, chess sets, checkers, and playing cards.
9 South Main Street Hanover, NH Phone:
Located in the hyper-cool college town of Hanover, home to Dartmouth College, the 15-year-old Left Bank Books at 9 South Main Street "beckons to the curious" to come explore 9,000 used, out of print, and rare books carefully selected by owners Nancy, (aka the Bookstore Lady), and Alan. The vast collection takes browsers indirectly into the bookshelves of retiring professors and to library and book sales all over Vermont and New Hampshire. Come enjoy author talks, performances for kids, semi-silly themes and displays, and a welcoming atmosphere.
471 Angell Street Providence, RI Phone: 401-331-9097
The first asset of this small but well-stocked bookstore is its location – on the East Side of Providence in the Wayland Square neighborhood, near Brown University and plenty of interesting neighborhoods and cafes and shops. Books on the Square has a neighborly feel – it's is clean, organized, and easy to navigate. And it's not packed to rafters, so you don't feel so overwhelmed. Staff picks, nice children's section, book clubs, and author talks. This store has been a local resource for decades. Open daily.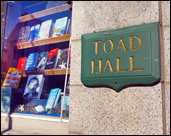 47 Main Street Rockport, MA Phone: 978-546-7323
With its sweeping green awnings fronting the old Granite Savings Bank building and a cunning spiral staircase inside, you won't forget your visual impressions of Toad Hall, an independent bookstore in the beautiful seaside town of Rockport. You might guess that the store is named after "The Wind in the Willows," the favorite book of founder Buck Robinson. This full-service bookstore emphasizes environmental and local author selections. There's a used book section in the upstairs loft and a children's section where kids can pull up a beanbag chair and read.
53 West Main Street Mystic, CT Phone: 860-536-3795
In the heart and crossroads of downtown Mystic, Bank Square Books looks out upon a classic bank building and famous Mystic Pizza. Offerings include bestsellers, classics, children's books, gifts and toys, postcards, journals, and stationery. Take advantage of gift cards and gift wrapping, and make a visit to the adjacent Mystic Museum of Art. The store organizes a self-improvement series with experts on many topics; and beer, dinner, and lunch series with authors at a local brewery and the Mohegan Sun.