Amusement Parks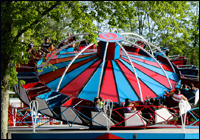 A family trip to one of New England's affordable amusement parks includes summertime fun in the water, some of the nation's best thrill rides, all within a family-themed atmosphere. Chill out in swimming pools, water slides, log flumes and other water park activities. Enjoy the high-flying thrills of roller coasters, vertical drops, trampolines, zip lines and more! Picnic areas and plenty of concessions complete a thrill-filled family vacation. And remember, there are lots of other great
family activities
, like aquariums, re-created historic towns, kids' museums and science museums. Explore on your family getaway.
528 Presidential Highway Jefferson, NH, 03583 Phone: 603-586-4445
Pure Joy. Family Style. Every Summer & Christmastime, too.
Santa's Village in New Hampshire's White Mountains is the only New England park to earn recognition as one of the Top 25 Amusement Parks in the USA in the TripAdvisor 2014 Travelers' Choice Awards! It's a full day of rides and shows, cookies and elves, Santa and his reindeer – plus the fun of the Ho Ho H2O water park. Owned and operated by three generations of its founding family for more than 60 years, an annual visit to Santa's Village is a New England family tradition. Oh, what fun it is! Seasons: Open Memorial Day weekend to Christmas.
37 Corey Road -- Route 43 Hancock, MA, 01237 Phone: 413-738-5500 Toll-Free: 800-882-8859
Jiminy Peak Mountain Resort offers lodging accommodations perfect for any Berkshire getaway. Choose from our Country Inn Suites,or two or three bedroom mountainside Vacation Homes. We offer a host of amenities and activities to make you feel at home, including shopping and dining in the Village Center and Country Inn, outdoor heated swimming pool, the In-Touch Day Spa, fitness room, game room and more.
Jiminy Peak is also home to the largest ski and snowboard resort in southern New England, and the only mountain resort in North America to generate its own energy using alternative wind power. Jiminy's 45 trails and 9 lifts cater to all skill levels and fun for all, while our three terrain parks provide rails and jibs for the new and experienced park riders.
Since opening in 1948 Jiminy Peak has evolved to become a 4 season resort, offering something for everyone. Our mission is to provide positive, memorable, Mountain Resort experiences with outstanding, friendly and helpful service in remarkably beautiful surroundings; inspiring guests to return again and again.
Route 1 Saco, ME, 04072 Phone: 207-284-5139
Up, down and all around town fun
There's family fun and then there's Funtown Splashtown USA, Northern New England's largest family themed water and amusement park. The fun starts with Maine's only wooden roller coaster, Excalibur, Northern New England's largest vertical thrill ride, the Dragon's Descent, and Maine's largest steel-family coaster, the Wild Mouse. Kids will also love the Bumper Cars, Grand Prix Racers and ever-popular Astrosphere. Maine's tallest and largest water attractions Pirate's Paradise, the Mammoth and Tornado and Mount Olympus water slides along with New England's longest and tallest log flume ride, Thunder Falls, provide the splash. Arcades are filled with favorite games, gift shops, and family fun activities. With nearly 50 rides, waterslides and pools, Your family will create memories that will last a lifetime.
850 New Hampshire Route 16 Glen, NH, 03838 Phone: 603-383-4186
Every day is an unforgettable adventure!
Since 1954, this popular amusement park in the scenic White Mountains has offered family entertainment specially crafted for kids. Enjoy more shows, rides and play areas than ever before! Have dinner with your favorite characters or sit with Cinderella at Tea Time! Dance with Duke the Dragon at his fabulous Dance Party. Make a splash on the Bamboo Chutes. Scream aboard our thrilling roller coaster, Roar-O-Saurus. Meet real-life storybook characters. Search for prehistoric fossils, and play in the Dig-M-Deeper and Little Dreamers Nursery Rhyme play areas. Get everyone moving with Story Land's fun and family-friendly games. There's a free kennel for your pooch, lockers, and rentals for strollers, wheelchairs and ECV's. Nearby is the best in family lodging for a sweet night's sleep.
1225 Ocean Avenue New London, CT, 06320 Phone: 860-447-3031 Toll-Free: 800-510-7263
Relive your own childhood as you watch your kids enjoy all the lovingly restored, old-time, kiddy rides.
There's family fun and more at Ocean Beach Park. New this year is our Splash Park for kids under 8. For more water fun we have the ocean, of course, an Olympic-size swimming pool and triple waterslide. Our award-winning lifeguard staff is on duty for your safety. For more fun we have rides, mini-golf, and a Family Fun Center with a video arcade. Kids can enjoy our playground and adults can work out in the health club. The nature walk and observation deck let you enjoy our natural beauty.

When all the activity makes you hungry you have dining choices; our full-service restaurant, a food court, or ice cream stands. Ocean Beach Park can also accommodate picnics and corporate events. Our nightly entertainment schedule includes Classic Car Cruises on Mondays; kids movies on the beach Tuesday; live magic on Wednesday; Sock Hop on Thursday; and live bands on Friday.

Parking fee includes park admission for everyone riding in the car. Weekends, $22; weekdays, $17; week nights, $6; movie and magic show, $6; holidays, $30; Monday cruise night, free; fireworks nights, $6; pre- and post-season weekends, $10. Season parking decals: New London resident, $75 year-round; New London senior, $25; non-resident, $110.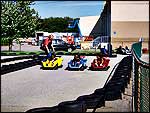 1098 Fall River Avenue Seekonk, MA, 02771 Phone: 508-336-8307
Find thrills and challenges at Seekonk Grand Prix
From Go Karts to mini-golf to arcade games, Seekonk Grand Prix has it all. It's the place for a day of fun. Test your mettle on our Go Kart tracks. Our Family Track measures a quarter mile in length, the longest in the region, and features hairpin turns, tunnels, and other challenges. Our Slick Track is a slippery oval. You'll need a quick hand to master the course. For more rock-em, sock-em action, try our bumper cars, and if you don't mind getting splashed, our bumper boats. We've got all your favorite arcade games, too, from Plinko to Air Hockey to Nascar Racing. Win tickets you can trade in for cool prizes. And don't forget our 18-hole mini-golf course, with caves, streams, ponds and other obstacles.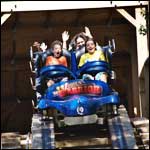 2132 Middlebury Road (Route 64) Middlebury, CT, 06762 Phone: 203-758-2913 Toll-Free: 800-367-7275
Celebrating over a Century of Affordable Family Fun
Quassy Amusement Park, founded in 1908, sits on the south shore of Lake Quassapaug in Middlebury, Connecticut. On its 20 plus acres, it boasts 22 rides including the award-winning "Wooden Warrior" roller coaster, Yo-Yo Super Swing, The Big Flush Water Coaster, a Grand Carousel, and a variety of thrill rides as well as attractions for the very young. Visit "Splash Away Bay," the sensational waterpark with new waterslides and a splash pad just for the little guys. Cool off in Lake Quassapaug at Quassy Beach and cap off the day with a frozen treat from Quassy's new Ice Cream Parlor. The park also offers an arcade, food stands and a restaurant. Quassy offers the entire family affordable fun. Obviously, Quassy is the place for you!
3984 Vermont Route 11 Six miles east of Manchester, VT, 05152 Phone: 802-824-5522
The ultimate in southern Vermont amusement parks
There are amusement parks and there are amusement destinations for day trips and longer stays. You get both at this celebrated adventure park in southern Vermont. Stay all day or settle into a mountainside townhome or condominium with wood-burning fireplaces, fully equipped kitchens, cable TV, DVD player, and stereo. You'll enjoy the exercise facility and lounge and during the summer months, a heated outdoor pool and tennis courts. With family savings on all day passes, there's the KidZone featuring 23 rides and attractions and free family entertainment. The Aerial Adventure Park with 63 elements on 5 courses, and the one-of-a-kind, 50 mph Sun Mountain Flyer will surely make your day, while Mountain Adventure Park offers America's longest Alpine Slide, Vermont's longest water-slide, the Giant Swing, and four Trampoline "Things."
200 Daniel Webster Highway Nashua, NH, 03060 Phone: 603-888-1940
It's a big wide fun world out there.
It's called Fun World for a reason and it's a year round indoor fun house for all ages. The game room is stocked with over 250 video & redemption games from arcade classics to new app and fishing themed games. Thirty games and rides are specifically designed for young children. There's a three-story indoor playground with a huge climbing structure, a variety of twisting, winding slides. Best of all is the sitting area for moms and dads. Indoor rides include the beautiful two-story Venetian Carousel imported from Italy, an indoor roller coaster and the exciting Himalaya sure to provide hours of physical fun. The catered parties for birthdays, special events, or group outings are the best value in the area. By a long shot.
5 Pine Street Carver, MA, 02330 Phone: 508-866-8190 Toll-Free: 877-332-8455
Old time vintage fun in the here and now
This historic amusement park features a two-foot gauge railroad once used to service the cranberry bogs and haul paying customers on sightseeing rides. This "Family Fun Park" had carnival rides, bright lights and extravagant Christmas displays while the Edaville Railroad became a phenomenon. Today the reconfigured railroad remains and vintage amusement rides such as an antique carousel and an illuminated Ferris Wheel have been added. The "Day Out With Thomas the Tank Engine" is great fun while the National Cranberry Festival and the Christmas Festival of Lights shine in fall and winter. Take your pick of snacks, salads, sandwiches, candy, kettle corn and a fabulous barbeque at a delicious variety of food stops along the way. Then stock up on toys, games, Edaville souvenirs, and much, much more.
50 Ferncroft Road Danvers, MA, 01923 Phone: 978-777-2500
SPLAAAAAAASH. Aaaaaaaah! More please!
Water feels good especially when it's warm and relaxing and all out nonstop fun. That's the scene at Coco Key, the largest indoor water park in Massachusetts. Open every day for every kid of every age, you are transported to a tropical paradise where it's 84 degrees no matter what the thermometer says. There are water slides, a lazy river, a splash pad and dip-in-the- theater arcade, private, cozy cabanas and more. Hold a birthday party, fundraiser, group swim, or hey!... buy out the whole park for a day. Right next door you can dry off, chow down and settle in at the fabulous Doubletree Hotel Boston North Shore. Coco Key discounts and special packages include overnight accommodations, water resort access, and breakfast in the family-friendly TradeWinds Restaurant.
Route 1 - Animal Park Road York Beach, ME, 03909 Phone: 207-363-4911
Enjoy old-fashioned amusement park fun at York's Wild Kingdom
York's Wild Kingdom includes an old-fashioned beach amusement park geared for smaller children, with more than 20 rides to entertain you! Remember the fun you once had on the merry-go-round, the glass house, the super slide, the wacky mouse, and the ferris wheel? Now you can watch your kids enjoy the same thrills, or on many rides climb aboard yourself and join them. Bring a lunch for a picnic in our park, or grab refreshments at our snack bars. Enjoy the best fried dough on Maine's seacoast. We've also got an 18-hole mini-golf course, batting cages, go-karts, midway games, and an arcade. Visit our zoo, too. It's home to lions, tigers, monkeys, mandrills, and fluttering creatures in our Butterfly Kingdom.