Amusement Parks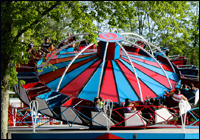 A family trip to one of New England's affordable amusement parks includes summertime fun in the water, some of the nation's best thrill rides, all within a family-themed atmosphere. Chill out in swimming pools, water slides, log flumes and other water park activities. Enjoy the high-flying thrills of roller coasters, vertical drops, trampolines, zip lines and more! Picnic areas and plenty of concessions complete a thrill-filled family vacation. And remember, there are lots of other great
family activities
, like aquariums, re-created historic towns, kids' museums and science museums. Explore on your family getaway.
37 Corey Road -- Route 43 Hancock, MA, 01237 Phone: 413-738-5500 Toll-Free: 800-882-8859
All-Season Outdoor Fun for the Entire Family!
Jiminy Peak Mountain Resort offers lodging for any Berkshire getaway. Choose from our Country Inn Suites or two or three bedroom mountainside Vacation Homes. Amenities and activities include shopping and dining in the Village Center and Country Inn, outdoor heated swimming pool, the In-Touch Day Spa, fitness room, game room.
Jiminy Peak is home to the largest ski and snowboard resort in southern New England. Jiminy's 45 trails and 9 lifts cater to all skill levels, while our three terrain parks provide rails and jibs for the new and experienced park riders.
Since opening in 1948 Jiminy Peak has evolved to become a 4 season resort, our mission to provide memorable Mountain Resort experiences with outstanding, friendly and helpful service in beautiful surroundings.
Route 1 - Animal Park Road York Beach, ME, 03909 Phone: 207-363-4911
Enjoy old-fashioned amusement park fun at York's Wild Kingdom
York's Wild Kingdom includes an old-fashioned beach amusement park geared for smaller children, with more than 20 rides to entertain you! Remember the fun you once had on the merry-go-round, the glass house, the super slide, the wacky mouse, and the ferris wheel? Now you can watch your kids enjoy the same thrills, or on many rides climb aboard yourself and join them. Bring a lunch for a picnic in our park, or grab refreshments at our snack bars. Enjoy the best fried dough on Maine's seacoast. We've also got an 18-hole mini-golf course, batting cages, go-karts, midway games, and an arcade. Visit our zoo, too. It's home to lions, tigers, monkeys, mandrills, and fluttering creatures in our Butterfly Kingdom.
Route 1 Saco, ME, 04072 Phone: 207-284-5139
Packing it all in with two fun parks in one
Amusement parks don't get better than this - with a water park thrown in! Funtown Splashtown USA is where you go in Maine to double your fun. Before you cool off in the water rides, you can work up a sweat on other thrilling activities, such as plunging down Dragon's Descent. You have your choice of the state's only wooden roller coaster, Excalibur, for rattlin' good fun, or their solid steel coaster, the Wild Mouse, for a faster and "swoopier" time of your life. To enjoy zipping around while cooling down, try New England's tallest and longest log flume ride, Thunder Falls. With 50 rides and slides, pools and plummets, you won't likely run out of fun at Funtown Splashtown USA.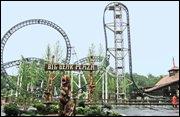 85 North Policy Street Salem, NH, 03079 Phone: 603-893-3560
The fun never stops!
Originally a trolley park, Canobie Lake Park has opened every summer since 1902 featuring amusement games, arcades, more than 50 thrilling rides and endless fun to families across New England and beyond. There's entertainment on two stages and the Dancehall Theater, a water park and more just 30 miles north of Boston. Enjoy several roller coasters, a hand-painted antique carousel, steam train, a ferris wheel, one of the only "dark rides" in New England, over a dozen kiddie rides and a dedicated Kiddieland area, plus evening fireworks. Food choices abound and you'll find special events and lots of tax free shopping for everyday items, keepsakes and souvenirs. Check out the discounts for school and company outings and nearby special summer lodging packages. Free parking every day.
528 Presidential Highway Jefferson, NH, 03583 Phone: 603-586-4445
Pure Joy. Family Style. Every Summer & Christmastime, too.
Santa's Village in New Hampshire's White Mountains is the only New England park to earn recognition as one of the Top 25 Amusement Parks in the USA in the TripAdvisor 2014 Travelers' Choice Awards! It's a full day of rides and shows, cookies and elves, Santa and his reindeer – plus the fun of the Ho Ho H2O water park. Owned and operated by three generations of its founding family for more than 60 years, an annual visit to Santa's Village is a New England family tradition. Oh, what fun it is! Seasons: Open Memorial Day weekend to Christmas.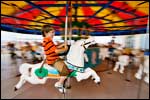 1225 Ocean Avenue New London, CT, 06320 Phone: 860-447-3031 Toll-Free: 800-510-7263
This park comes with amusements for visitors of all ages
People laughing on a busy boardwalk, children shouting as they run in and out of a sprayground, the sizzle of clam fritters cooking in a galley: That's the musical backdrop to the old-fashioned amusement park at Ocean Beach Park. Kiddie rides range from lovingly restored carousels to tiny trains and cars; for grown-ups, there's the Scrambler and the Octopus. But you can also play Skee-Ball in the arcade or 18 holes of mini-golf, get a soft-serve cone or conquer the triple waterslide. Check out special deals on kiddie rides and mini golf on Mondays and entertainment offerings, including movies, bands and fireworks, throughout the week.
Parking fees (includes park admission): Weekends $23, Weekdays $17, Weeknights after 6pm $8, Fireworks Evenings $10. Walk-in Admission $6.
200 Daniel Webster Highway Nashua, NH, 03060 Phone: 603-888-1940
It's a big wide fun world out there!
So, it's amusement you're looking for? And, you wouldn't mind tiring out all those children that follow you around, after long hours in the car. Fun World – a castle form the outside and a play pit on the inside – has you covered. For a reasonable cost and the convenience of in-house dining, families can keep the littlest members entertained with slides, tumbling in a ball pit, jungle gym climbing, and simple rides. Meanwhile, teenagers can collect redeemable tickets and all kinds of trendy prizes by playing at a huge assortment of video, multi-play, dance, sport, and classic arcade games, from Transformers Theater to old-school air hockey. Moms and dads may join the action, or settle in to a more-sedate ride on the imported carousel from Italy.
850 New Hampshire Route 16 Glen, NH, 03838 Phone: 603-383-4186
Every day is an unforgettable adventure!
Since 1954, this popular amusement park in the scenic White Mountains has offered family entertainment specially crafted for kids. Enjoy more shows, rides and play areas than ever before! Have dinner with your favorite characters or sit with Cinderella at Tea Time! Dance with Duke the Dragon at his fabulous Dance Party. Make a splash on the Bamboo Chutes. Scream aboard our thrilling roller coaster, Roar-O-Saurus. Meet real-life storybook characters. Search for prehistoric fossils, and play in the Dig-M-Deeper and Little Dreamers Nursery Rhyme play areas. Get everyone moving with Story Land's fun and family-friendly games. There's a free kennel for your pooch, lockers, and rentals for strollers, wheelchairs and ECV's. Nearby is the best in family lodging for a sweet night's sleep.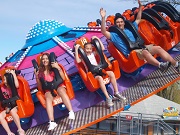 2132 Middlebury Road (Route 64) Middlebury, CT, 06762 Phone: 203-758-2913 Toll-Free: 800-367-7275
Celebrating over a Century of Affordable Family Fun
Quassy Amusement Park, founded in 1908, sits on the south shore of Lake Quassapaug in Middlebury, Connecticut. On its 20 plus acres, it boasts 22 rides including the award-winning "Wooden Warrior" roller coaster, new Frantic and Reverse Time thrill rides, a Grand Carousel, and a variety of family rides as well as attractions for the very young. Visit "Splash Away Bay", the sensational water park with new water slides and a splash pad just for the little guys. Cool off in Lake Quassapaug at Quassy Beach and cap off the day with a frozen treat from Quassy's Ice Cream Parlor. The park also offers an arcade, live entertainment, and a restaurant. Quassy offers the entire family affordable fun. Obviously, Quassy is the place for you!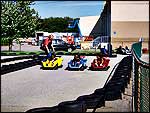 1098 Fall River Avenue Seekonk, MA, 02771 Phone: 508-336-8307
Competitive & affordable fun
As unique an amusement park as you might find anywhere, Seekonk Grand Prix has go karts and much more. The ¼ mile family track, the longest in New England, features hairpin turns, a bridge, 2 tunnels and new two-seater go-karts. Some fast hand work is needed to get you around the Slick Track's slippery oval where you can race up to 12 of your friends. Little guys and gals have their own Rookie Track and can graduate to the Kiddy Track and Beginner Track. Bumper cars and boats are for bumping while the arcade offers more than 60 of your favorite games like Guitar Hero, Ski Ball, Air Hockey and Dance Dance Revolution. Here's competitive fun at affordable prices.
110 Daniel Webster Highway (Route 3) Lincoln, NH, 03251 Phone: 603-745-8913
Rides, slides and so much more
There are amusements for everyone at Clarks Trading Post from being chased by the Wolfman to tax free shopping brought to you by five generations of Clarks. The Anaconda Escape water raft ride speeds you through 300 feet of twists and turns, drops and plunges, in total darkness. The Victorian Main Street presents five museums and the largest and most well stocked gift and souvenir shop in the White Mountains. Be amazed by Yandong's Chinese Acrobats, dress up for an antique-style photo, mine for gemstones and fossils. The featured North American Black Bear Show will amaze and entertain you. Climb aboard the White Mountain Central Railroad, cool off on water "Blaster Boats." Tickets include all rides, all shows, all day.
50 Ferncroft Road Danvers, MA, 01923 Phone: 978-777-2500
SPLAAAAAAASH. Aaaaaaaah! More please!
Water feels good especially when it's warm and relaxing and all out nonstop fun. That's the scene at Coco Key, the largest indoor water park in Massachusetts. Open every day for every kid of every age, you are transported to a tropical paradise where it's 84 degrees no matter what the thermometer says. There are water slides, a lazy river, a splash pad and dip-in-the- theater arcade, private, cozy cabanas and more. Hold a birthday party, fundraiser, group swim, or hey!... buy out the whole park for a day. Right next door you can dry off, chow down and settle in at the fabulous Doubletree Hotel Boston North Shore. Coco Key discounts and special packages include overnight accommodations, water resort access, and breakfast in the family-friendly TradeWinds Restaurant.
66 Thunder Mountain Road Charlemont, MA, 01339 Phone: 413-339-6617
Bring your kids. You can play and stay.
Come check out and ride North America's longest mountain coaster! And there's lots more too. Where do you want to start? Depending on the season there is skiing, snowboarding and tubing, zip lining, white water rafting, and downhill mountain biking. We also have a great family friendly place to stay while you're enjoying all of the activities, a restaurant - the Crazy Horse Bar and Grill for lunch or dinner, a friendly staff and we are committed to being the best at whatever we do. We're easy to find and not far away – just off of Route 2/The Mohawk Trail in Charlemont. We are just 2 hours from Boston, three hours from New York City.