Zip Line Canopy Tours in New England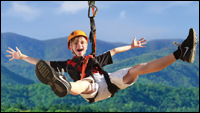 You need a heart for adventure – but not necessarily a body of an athlete – to enjoy the thrill of zooming through the treetops and clambering across aerial suspension bridges at New England's zip lines. In just a handful of years, these playgrounds in the tree canopy have sprung up across New England, serving people's desire to unleash that inner Tarzan. Guides convey you safely along zip lines, through elevated obstacle courses, and across chattering rope and suspended bridges. Really fun for all averagely fit people as long as you carry enough weight to propel you (sorry, babies and toddlers). A great thing to do on a
family getaway
.
3 Great Locations Weirs Beach & Chocorua, NH and Saco, ME Phone: 603-367-4427
Monkey around in the trees in three New England settings
Discover high excitement in three scenic New England locations. Enjoy zip line tours, aerial adventures, zip trekking and more with the whole family in Chocorua in the White Mountains, Weirs Beach in the Lakes Region and in Saco on the south coast of Maine. Ground schools offer instructions and guidance to ensure that you'll have a safe and exciting time above the ground. Guided and solo tours allow you to progress at your own pace through different courses, each more challenging than the previous. You'll find swinging beams, tightropes, rolling logs, hanging tires, and cargo nets to keep you busy. There's a dual 360 feet zipline and a a 35-foot-high giant swing rock climbing wall. Height and weight restrictions apply.
66 Thunder Mountain Road Charlemont, MA, 01339 Phone: 413-339-6617
Featured by USA Today as one of the Top 10 Zip lines of the United States.
Choose from one of three great zip line canopy tours!:
The Base Tour: Zip our introductory course - four zip lines for 30 dollars. Who can beat that? After you've tried the Base, hop on either the VJ or Mtn. Top Tours and receive our group price discount!
Mountain Top Tour: 7 zips, two lovely hikes, and two great ski lift rides. Ride dual racing lines and brave towers 45' in the air. Features incredible views of the valley, and an experience that the whole family can enjoy!
Valley Jump: Extreme fun! One of the best tours in North America. Featured in the Washington Post and in reviews all over the internet. You'll love it - Two half-mile-long zips, with approaches 200' off the ground. This is a category killer!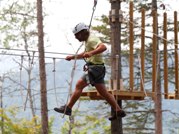 983 Upton Road Errol, NH, 03579 Phone: 603-215-0002
Become the Tarzan of the Granite State wilderness
ELC Outdoors in Errol, NH, offers you a dozen exciting aerial adventures that can be done continuously from start to finish. Our course is a series of ropes, wires, platforms, and bridges suspended 12- 40 feet off the ground, using a SnapSmart belay system that lets you control the course. Traverse the treetops with our two zip lines. Catch a glimpse of Mount Washington and the White Mountains as you navigate from the penguin platforms to Burma buckets. Our high ropes course can be utilized alone, or combined with ELC's raft, kayak or wildlife tour programs. Spend half the day learning the ins and outs of white water rafting, and the second half working your way through the treetops. We offer trips for all ages and experience levels.
40 Sargent Drive New Haven, CT, 06511 Phone: 203-812-9981
Soar down the longest Sky Rail zip lines ever constructed
Experience four indoor zip lines on the largest indoor ropes course in the world. Enjoy high adventure on two 60' tall Sky Trail ropes courses and four 200' long Sky Rails which have you glide over top the Waltzing Water show for some guaranteed spray action. Climb through zig zag swinging beams, crisscross angle rope ladders, cargo nets, and bridges. Groove to the lights, programmed stereo and music amidst 1000 water nozzles that shoot high into the scene. IT also has a Little IT for kids under 4' tall, a Jump IT free fall, a 200' long catwalk, and vertical wobbly poles and twisted structures that take you higher.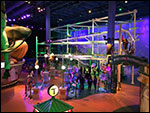 50 Walkers Brook Drive Reading, MA, 01867 Phone: 781-942-9816
Move along this sky ropes course or hold on tight – it's all good
Enjoy high thrills at Jordan's one-of-a-kind BeanStalk™ Adventure Ropes Course in Reading, Massachusetts. Test your balance and agility and move from one activity to the next that takes you from 12'-24' up and out. Challenge the zig zag beams, crisscross angled rope ladders, and spaghetti hand lines. Then at 24" walk the plank, step out on a 6 inch standalone beam, and if you dare, pivot and return. There are two levels of challenging ropes courses, 30 exciting activities, and one specially designed course for children ages 2-7, the BeanSprout.™ Adventurers must be at least 48" tall or 42" if accompanied by a chaperone. Groups of 10 or more on the same transaction receive a 10% discount. Call for details.
Route 2 (Mohawk Trail) Charlemont, MA, 01339 Phone: 800-532-7483
Named "Best Place to Soar" by Yankee Magazine
Connect with family and friends on a 3-hour zip line canopy tour in the northern Berkshires. You'll fly from tree to tree via 11 zip lines, 2 sky bridges and 3 rappels as you journey from the top of the ridge to the river valley below, encountering progressively faster zip lines as you go. Our generous guide to guest ratio (a maximum of 4 to 1) ensures that you'll have a personalized journey through the trees and that safety will be a top priority.

Combine your zip line canopy tour with a whitewater raft trip and an overnight stay at our comfortable campground or guest lodge and you'll receive 10% off the package for a great adventure getaway. We zip from April through November. Call to book your zip line adventure today!
357 Morningside Lane Charlestown, NH, 03603 Phone: 603-542-4416
Fly atop the trees amidst beautiful New Hampshire Scenery
If you're looking for a fantastic day or weekend trip within easy reach of Boston, Hartford, Montreal, and New York, get up off the ground and into the trees at this remarkable flight park. You're in New Hampshire's majestic Connecticut River Valley and you can fly through the trees on an ACCT Certified Course designed with 2 cables for redundancy and suitable for almost every age and skill level. Your flight plan takes you through maples, oaks, and pines starting at the top of Morningside Mountain on slopes where hang gliders have been flying since 1974. The wildlife below is yours for the viewing and includes chipmunks, wild turkeys, and more. Check out the special packages and group rates.