Winter Activities in New England
Winter in New England is a mosaic of contrasts that all fit together for a great travel experience. Bright days reflected against a covering of white lead to crystal-clear nights with stars glistening overhead. A day of invigorating outdoor activities is followed by comfort food next to a warming fire. Along the ocean the coastline quiets and its beauty takes on more somber coloring. New England's cities pulse with cultural activities. Winter festivals are great fun.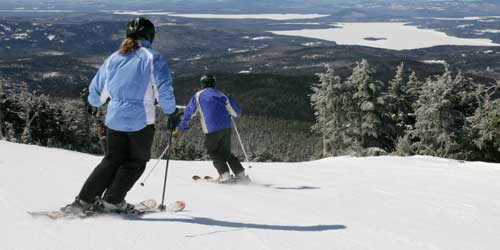 Alpine ski areas range from
full service mountain resorts
and ski towns in Vermont, New Hampshire, and Maine, to smaller-family oriented ski areas in every state. The medium-sized to larger areas offer great lodging packages, more and longer runs, and a wide variety of off slope services from spas to sleigh rides. Apres-ski nightlife in the ski towns is exciting and vivid.
Cross country skiing and snowshoeing are the best way to enjoy winter in New England up close. Either activity is easy to learn. There are Nordic ski areas at major resorts as well as specific cross country ski and snowshoeing venues. Equipment rentals and instruction are available. Many parks and reserves also maintain trails for skiing and snowshoeing.
Snowmobiling has become a major winter pastime. Vermont, New Hampshire, and Maine maintain thousands of miles of interconnected snowmobiling trails. Outfitters and guides throughout snow country provide advice, guided tours, and rentals so winter hikers and skiers can explore the back country.
Additional winter activities include snow tubing, horse-drawn sleigh rides, ice skating, and dog sledding. For quick getaways at off-season rates travel to any of the numerous oceanfront lodgings that remain open year round. Shopping, dining and spa services are all available.
Cross-Country Skiing & Snowshoeing
New England Ski Conditions