Fall Foliage in New England
Beautiful Fall Foliage
The red, orange and gold colored leaves of autumn in New England delight visitors from around the world. Much of the color is from native sugar maples; only a few other places in the world have such dense and perfect concentrations of these maples.
Find custom maps for scenic foliage drives and great things to do and see in Connecticut, Maine, Massachusetts, New Hampshire, Rhode Island and Vermont.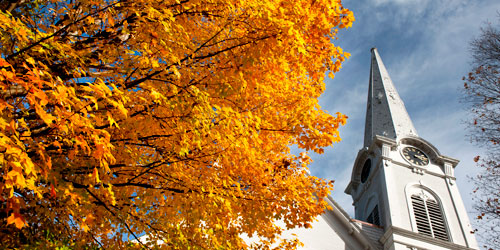 When to Visit
Color changes start in mid-September in the northern states of Maine, New Hampshire, and Vermont because nights get cooler earliest there. Moving into the October, color changes move southward through the warmer climates of Massachusetts, Rhode Island, and Connecticut. Color can stay as late as late October in the southern states. Generally, color peaks near Columbus Day weekend. This can vary based on temperature and rainfall.
Where to Stay
Decide on your dates of travel and make reservations for inns, hotels, and motels early -- preferably starting in July or August. Lots of travelers are competing for hotel rooms in the fall, especially in the northern states of Vermont, New Hampshire, and Maine.
Where to Find Color
Click here to view the current New England Foliage report.
Once foliage season begins the report will be regularly updated. Also, take a map and explore some of the small, back roads as you wander. Look for roadside signs for pick-your-own farms and farm stands, parks, and public wilderness areas. Get out of the car, stretch, and look around. Don't be afraid to wander. Ask local people where to find high ground and good vistas.
Clothing and Gear
Even if days are warm, be prepared for chilly nights with long pants, long sleeves, and a sweater. Wear sneakers and jeans so that you can jump out of the car and scramble over a stone wall or ramble through a hillside meadow. Take a camera, but remember to put it down and just look around. Take visors and sunscreen and binoculars.