Independent bookstores take readers deep into New England words and traditions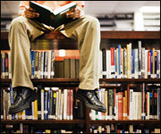 People who love to read: don't miss any chance to visit an independent bookstore on your travels in New England. All states have great small bookstores, where you may find local authors reading their works, knowledgeable staff members, lots of choices for kids, restful corners to read and explore, and a purely welcoming atmosphere. Many are near dozy coffee shops or restaurants where you can retreat with your booty.
Then get out and explore the region at wonderful
events
,
fairs and festivals
, and
museums.