Get a Bird's-Eye View of Fall Foliage from a Chair Lift or Hot Air Balloon
We know how to see fall foliage from the ground. Now it's time to do a 2017 foliage viewing adventure from above the treetops. You can do it on chair lift rides at many New England ski areas or on a thrilling flight in a hot air balloon.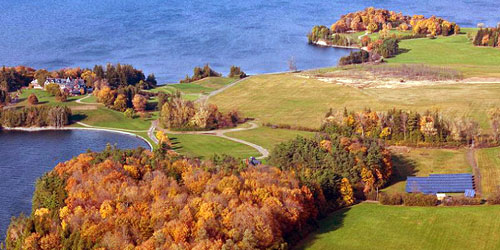 VERMONT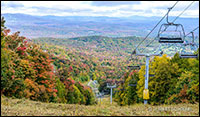 Stratton Mountain in Stratton VT
The Stratton Mountain gondola chair lift will whisk you up to the top of southern Vermont's highest peak, with glorious views of White Mountains, Adirondacks, Berkshires and the Green Mountain range. Walk to the fire tower to take pictures or sit for a picnic lunch. Dates: September 3-4; 25-30; October 1-6, 7-9.
More to do…
Stratton has a sweet village with plenty of interesting shops and places for lunch or dinner. Only 28 miles from Stratton, near the town of Manchester, is Equinox Mountain and
Equinox Preserve
. The Preserve, on the slopes of Mount Equinox, is laced with walking trails.
Let's eat!
Find picnic-style food to go with you. Find all you need at Zoey's on Depot Street in Manchester: excellent sandwiches, chip, big cookies. For a sit-down meal, we love The Perfect Wife, also in Manchester.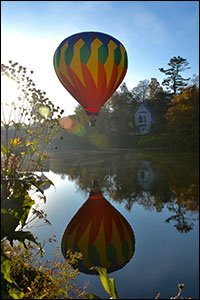 Quechee Balloon Rides in Quechee VT
Hot air balloon flights with Quechee Balloon Rides typically begin at the Quechee Village Green. Balloons carry only three passengers, so flight is intimate and uncrowded. Landing sites are open fields or private properties. A chase crew packs up the balloon and returns the passengers to the launch site.
More to do…
Visit Quechee Gorge, a 165-foot-long cleft in the mountain cut by a plunging stream. See the gorge from Route 4 and paths along the gorge. Eat and find souvenirs at the shops of adjacent
Quechee Gorge Village
on Route 4.
Let's eat!
Home-style cooking is served at Quechee Gorge Village at an authentic 1946 Worcester Diner Car #787, a barn dining room with outdoor seating, and at a tavern overlooking the village.
MASSACHUSETTS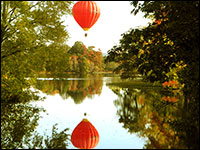 Misty River Ballooning in Florence MA
Misty River Ballooning lifts off from several locations in the Pioneer Valley and the surrounding hill towns. Your views from aloft will be of the Connecticut River winding south below you. With enough notice Misty River can fly a group of any size in several balloons.
More to do...
Florence is in the
Connecticut River Valley region
and an easy drive to Mount Holyoke College in South Hadley, which has a fine arboretum and many gardens. Also, Brunelle's Marina on the Connecticut River hosts river cruises on the Lady Bea.
Let's eat!
North Hadley Sugar Shack
at 228 River Drive in Hadley is a fun place to browse and stock up on maple products, honey, and jams. For kid travelers, the Farm Tale is a farm animal play park.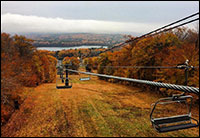 Wachusett Mountain in Princeton MA
The Skyride chair lift to the top of the ski trails is open Labor and Columbus Day weekends and during every fall festival at Wachusett. AppleFest is October 14-15; OktoberFest is October 21-22; and the Food Truck & Craft Brew Festival is November 11.
More to do...
Wachusett Mountain and Princeton are near the east-west Mohawk Trail (Route 2). Just 23 miles east of Princeton is
Fruitlands Museum
in Harvard. Explore a historic farmhouse, a Shaker Museum, and lots of walking trails. Worcester is 22 miles south of Princeton and the
Worcester Art Museum
is a beauty.
Let's eat!
About 20 miles west of Princeton on Route 2 (the Mohawk Trail), is
Red Apple Farm
in Phillipston. Stretch your legs and buy apples and cider, donuts and kettle corn, and cheeses. For a sit-down farm meal, 13 miles farther west is Johnson's Farm at in Orange. Enjoy a meal and visit a neat little gift shop.
MAINE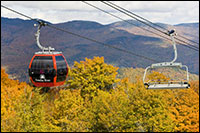 Sunday River in Newry ME
At Sunday River ski area, you may bring your dog on the Chondola or the chair lift that travels up to North Peak, offering foliage views of the Mahoosuc Mountain Range. Hiking trails give you the choice of riding up and walking back down. The Mountain Park activities also include ziplines, mountain biking, a climbing wall and bungee trampolines.
Let's eat!
Camp, in the lobby of the Grand Summit Hotel at Sunday River resort, blends a rustic atmosphere with modern touches, serving comfort food and Maine specialties. In nearby Bethel, Smokin' Good BBQ is great for lunch, and Dicocoa's serves vegetarian choices.
Hot Fun in Portand and Southern Maine
Hot Fun can take a pilot and two adults up for an hour's leisurely float in a hot air balloon with views of the Presidential Range, Maine little villages, and a busy coastline. Flights usually take off just after sunrise and in the evenings.
More to do...
The
Old Port
neighborhood is a revived waterfront district, just packed with fun shops of all kinds and good dining. For historic Maine sights, visit Cape Elizabeth's Portland Headlight at Fort Williams Park.
Let's eat!
Portland
is Maine's culinary capital, so lobster is king at places like J's Oyster on the Portland Pier. We also love Diamond's Edge Restaurant & Marina and Eve's on the Garden at Portland Harbor Hotel.
NEW HAMPSHIRE
Loon Mountain in Lincoln NH
A mile-and-a-half gondola chair lift ride to the top of Loon Mountain displays the Whites Mountains all around you. At the summit, explore glacial caves and 50,000-year-old granite formations by walking a system of boardwalks. There's a mountaintop playground for kids and the Summit Café, with Caribbean dishes.
More to do...
Lincoln and Conway are the end points of the 36-mile
Kancamagus Highway
( "the Kank"). A drive on the Kank has glorious mountain views.
Clark's Trading Post
in Lincoln is a day of fun, with a Victorian Main Street, gift shops, and a bear performance. North Conway is a mecca for interesting shopping.
Let's eat!
Great places for a hearty and casual lunch in Lincoln start with the home-grown Common Man Restaurant, followed by Black Mtn Burger Co., Gypsy Café, and the The Purple Tomato Farmers Market.
High 5 Ballooning in Derry NH
Float through the sky and absorb views of the White Mountains, Atlantic Ocean, Boston's skyline and Merrimack River. High 5 launches with the first rays of the morning sun, when winds are calmest. Your flight end with a picnic.
More to do...
Derry, in southeastern New Hampshire, is an easy 40-mile drive from Boston and close to Manchester, with the
Currier Museum of Art
and the kid-friendly SEE Science Center in a restored textile mill.
Let's eat!
Lunch choices in Derry and Londonderry includes Greek food at Amphora, South Side Diner, Chinese at Crazy Noodle, and hearty fare at Janie's Uncommon Café.
CONNECTICUT
Berkshire Balloons in Litchfield CT
Balloon pilot Robert Zirpolo has been taking guests of expeditions through the skies above western Connecticut since the 1980s. The balloon moves above woods, farm land, lakes, villages and reservoirs in a dreamy part of New England noted for its peaceful beauty.
More to do...
The town of Kent is picture-perfect and it has some special charms. Two
covered bridges
in the area are Bull's Bridge in Kent and Kent Falls Bridge in Kent Falls State Park. The House of Books on Main Street in Kent is packed with high-quality literature and a whole room of children's books. //www.visitconnecticut.com/state/covered-bridges/
Let's eat!
Stop and enjoy wine and a light meal (on weekends) at
Haight-Brown Vineyards
, Chestnut Hill Road in the town of Litchfield. For heartier meals, New Milford has the Alpenhaus Restaurant, serving German cuisine; The Cookhouse, with hard-core barbecue; and the Three Brothers Greek Diner.
RHODE ISLAND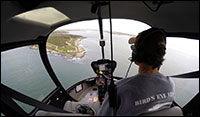 Bird's Eye Helicopters in Middletown RI
We've seen plenty of helicopters in the movies – often with a show of fisticuffs on the pontoons. Take a helicopter flight to enjoy the beauty of nature of Narragansett Bay and coastal Newport and Rhode Island during fall. Feel like you're in the beak of a bird coasting about the treetops.
More to do...
Middletown is just down the road from the Colonial-era with very lively city of
Newport
. Visit the famous mansions or
Bannister's Wharf
and
Bowen's Wharf
in the center of town, with lots of shopping and dining. Fort Adams State Park has lots of festive events throughout the year. //www.visitri.com/newport/
Let's eat!
Middletown is also where you find the very hospitable
Newport Vineyards
. On the property is Blix Restaurant, with excellent food and a fireplace for chilly fall evenings. The vineyard hosts lots and lots of weekend activities, including tastings and live music. //www.visitri.com/newport/vineyards-and-wineries/
Drive to your flight –
On the way to your mountaintop or hot air balloon adventure, explore one or more of these scenic drives in
Connecticut
,
Maine
,
Massachusetts
,
New Hampshire
,
Rhode Island
and
Vermont
.
You May Also Like...
---