Top 10 Lodgings with Fireplaces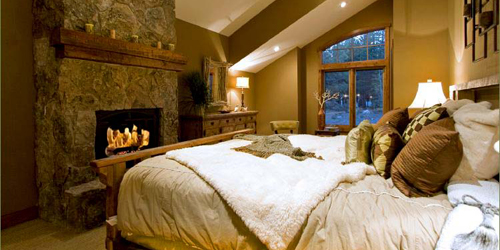 Whether or not you are a fan of British melodramas in draft castles, you surely agree that a fireplace
in the bedroom
has to be near the top of luxurious and romantic enhancements of life. Many hotels, inns, and lodgings in New England – from fancy downtown hotels to mountainside cabins – have fireplaces in guest rooms (we're even heard of one with a fireplace in a bathroom!). For a cozy and of-so-romantic winter getaway, scan the list below for this sweet addition to your New England vacation.
If you have not gotten acquainted with the beauty of Cape Cod in the winter, you need to correct that. A sweet inn in Barnstable that makes a winter visit so inviting is the Lamb and Lion Inn. The inn finds itself on this page because of its wood-burning fireplaces in guest rooms – filling your evening and sleeping hours with luxury and fun. Lamb and Lion also welcomes your pets. Bring your dog for walks in town or a rousing romp on the famous Cape Cod beaches. Enjoy the hot tub and spa.
People who appreciate antiques might think they landed in a corner of Heaven when they walk into the Captain Lord Mansion, an 1814 Federal-style house with glorious furnishings and a warm, welcoming host. The large guest rooms are meticulously decorated to create a peaceful space with both historic charm and modern conveniences. Gas fireplaces cast flickering warmth on king- or queen-size beds. Venture into the lush bathrooms with heated marble floors and mini-spas. The inn is near Kennebunkport's beaches, restaurants, museums, and galleries.
The Taj Boston is synonymous with luxury, big-city fashion. You might not expect fireplaces in guest rooms at a gleaming city hotel, but that is just what guests can have here. It's all about the luxury and a fireplace fits right in, especially for a romantic getaway. Taj indulgences also include views of the incomparable Boston Public Garden, continental buffet breakfast, elegant afternoon tea in the French Room overlooking Newbury Street, and access to one of the great cities of the world.
You expect to be able to gaze into a fire in a log cabin in the Vermont mountains, and Sterling Ridge Resort does not disappoint. The resort's 23 log cabins and three large lodgings for bigger groups all have an open fireplace or wood stove to capture the full flavor of the Vermont getaway. Surrounded by woods and meadows under the gaze of Mount Mansfield, the resort welcomes outdoors people for summer and winter activities, and also their pets.
This picture-perfect Maine Midcoast town enfolds this gem of a boutique hotel in the heart of its village. You may awaken in the morning with plans to enjoy the shopping, dining, windjammer sails, and spectacular seacoast views, but first, light your in-room fireplace and take a bit of extra time with coffee and comfort. This AAA 3-Diamond property has 36 guest rooms and suites incorporating antique brick walls with modern and stylish marble and granite surfaces, wainscoting, and crown molding.
Manchester, Vermont, an easy drive from New York City, has sidewalks of marble. (Vermont is where marble is quarried.) Manchester has a certain tone to reach, and the Inn at Manchester achieves this with marvelous and personal hospitality, suites with luxury bathrooms, separate sitting rooms, and working fireplaces. You will be so comfortable in this delightful lodging you will find it hard to stroll this lovely village. But do it; village is a delight.
Walking even the ordinary downtown streets of Newport – with cobblestones underfoot and the names of ancient Yankee merchants on clapboards house fronts – seems like stepping into Colonial times. It is a great town for a winter getaway because there is so much to do indoors – from jazz clubs to mansion tours. And if you stay at the boutique-style Mill Street Inn, you even have a fireplace in your room to warm the evenings and mornings, along with feather beds and marble bathrooms. Luxury anyone?
Views of water, boats, and marina activity are marvelous from Saybrook Point Inn & Spa, poised on a finger of land intersecting Long Island Sound and the Connecticut River. After 130 years in business, the Inn understands your needs, balancing luxury with warm service. You will feel the hospitality in the sparkle and snap from the fireplace in your own guest room. Don't linger too long; you will want to indulge in the spa, meals at the Fresh Salt Restaurant, and walks into the delightful small town.
A fireplace in the bathroom. Yes, you read that correctly: bathroom. This inn is where you can find the archetypal getaway for couples. It's on a nine-acre refuge surrounded by woods, but only minutes away from world-famous Stowe. King beds and a fireside Jacuzzi for two is made for luxury and intimacy. Only minutes from snow sports at Mount Mansfield and other outdoor adventures, The inn has won the TripAdvisor Hall of Fame Award, recognizing properties that have earned the Certificate of Excellence Award for five years in a row.
Views of majestic Lake Winnipesaukee and its backdrop of forested mountains are entrancing from Mill Falls at the Lake in the picturesque town of Meredith. Four sister inns, two right on the water and two just across the street, wrap you and your special someone in comfort and rest. Lounge by your in-room fireplace for morning coffee and then enjoy the local shops, excellent dining, and the Cascade Spa. Wrap up the day back in front of the fire with whatever treat matches the occasion.