See Plymouth, MA
Plymouth County invites you to make plans, when you are ready, to experience and enjoy a getaway that offers fun, good food, and unexpected pleasures!
---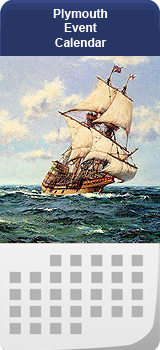 Choose an historical escape in America's Hometown of Plymouth and visit Plimoth Patuxet and the tall ship Mayflower where the story of New England's first European settlers comes to life. Experience the recreated English Village, the Native Wampanoag Homesite and board the reproduction 17th-century merchant ship that brought these hearty souls to the New World.
Perhaps the South Shore is more to your liking. These typical New England towns with church steeples and town greens will make your drive a comfy, relaxing experience especially when you find the perfect bed & breakfast or inn. Amble along the downtown streets where unique one-of-a-kind shops offer treasures, gifts and memorabilia. John & Priscilla Alden made their home in the Town of Duxbury where visitors are always welcome and encouraged to explore this historic site.
The Metrosouth region of Plymouth County has one of the finest craft museums in the country, the Fuller Craft Museum in Brockton. While there, head downtown to see the incredible Civil War era architecture of City Hall or take in the history of the city's shoemaking claim to fame at the Brockton Historical Society.
A colorful outdoor experience awaits in Cranberry Country where area farms in these small country towns provide visitors with a view of fall harvesting of this truly American berry. Stop in at The A. D. Makepeace Company in Wareham to grab a bite at their Market while learning and experiencing a harvest. Families return year after year to enjoy Edaville Family Theme Park in Carver. In December, its Christmas Festival of Lights is a brilliant delight for both kids and adults.
Plymouth County has been welcoming visitors since the Mayflower Pilgrims arrived in 1620. If you haven't made it here, you owe it to yourself to experience a piece of Americana that has long held the heart and history of New England. Treat yourself and See Plymouth!