Misquamicut Beach, Rhode Island
---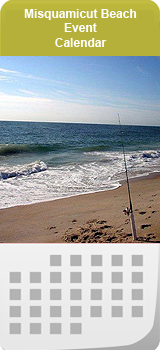 Misquamicut Beach, in Westerly, Rhode Island, with several miles of unspoiled beaches, is a perfect place for a summer vacation or even just a day out with friends or family. The beach area is comprised of four main sections - Misquamicut State Beach, Atlantic Beach Park, Westerly Town Beach and the new Wuskenau Town Beach.
Hotels, amusements, restaurants, & shops and beach cottages line Atlantic Avenue, the area's main road. There are several beach hotels & motels to choose from such as the Sandcastle Inn, as well as the many cottage rentals lining the far ends of the strip. No incredibly large resorts here, just plenty of good beachfront lodging.
Atlantic Beach offers many alternatives to the surf, sun & sand; from mini-golf to water slides to the restored 1915 carousel. There is no better place to enjoy lots of family activities. Summer events include concerts & movies on the beach and classic car nights.
Plan a trip to Misquamicut Beach and the South County region of Rhode Island this summer!