Editor's Choice - Newport Rhode Island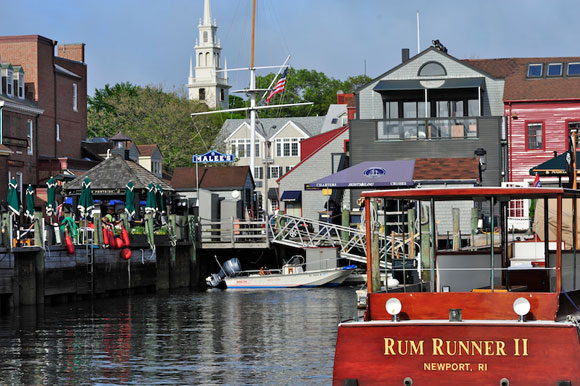 Newport is an old Colonial city, and its attractions for visitors cover a broad spectrum that includes sailing and boating enthusiasts, wine and tennis fans, people interested in Gilded Age mansions, and people who love to see where Revolutionary soldiers, merchants, pirates, and sailors helped write American history. Newport offers shopping and excellent dining, much of it on wharves that overlook the beautiful Newport Harbor and lots of pleasure boat traffic. Newport visitors can enjoy fabulous walks within this condensed, cobblestoned old city or along craggy cliffs. Sail or motor boat cruises whisk you among the islands, lighthouses, marine mammals, and sea birds in vibrant Narragansett Bay. Just outside of town are some great vineyards with wonderful tastings and entertainment.
GETTING HERE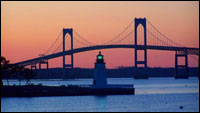 Newport is the southernmost of three towns on Aquidneck Island in Narragansett Bay, which splits the state of Rhode Island. So, you will need to use a bridge, boat, or aircraft to get here.
By Car
From the west or New York City, take I-95 to US Route 1 to RI Route 138 east. Route 138 crosses the Jamestown Bridge and the small island of Jamestown and continues across the Claiborne Pell Newport Bridge to Newport. Coming from a point due east like Cape Cod, take I-195 toward Providence, RI, then in Fall River, MA, switch to Route 24 south. This takes you onto Aquidneck Island across the Sakonnet River Bridge. After crossing the bridge, switch to Route 138 south and proceed to Newport. Coming from the northwest and Providence, take I-195 east and then switch to Route 114 south. This takes you across the Mount Hope Bridge and into Newport.
By Plane
Several national and regional airlines fly into T.F. Green Airport in Warwick, RI, 30 miles northwest of Newport. You would need to drive to Newport from Warwick. Newport has a small
airport
for chartered flights and private planes.
THINGS TO DO
Mansion Tours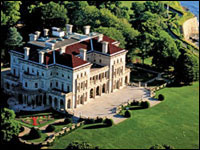 Newport is famous for its
mansions
, built as summer homes in the 1850s to 1900 by wealthy tycoons of New York and Philadelphia. These massive houses, including the spectacular Rosecliff, Marble House, the Breakers, the Elms, Rough Point, are open to the public, offering fascinating and informative tours. The Breakers is probably the first among equals of Newport mansions. Cornelius Vanderbilt II directed architect Richard Morris Hunt in 1893 to design the Breakers, an Italian Renaissance-style palazzo. Another gem along many is Rough Point, home of art collector and style-setter Doris Duke. The house (with beautiful lawn and gardens) is on a magnificent promontory and furnished with fabulous art and furniture.
Walks and Hikes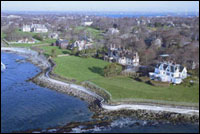 For a memorable walk and outstanding vistas,
Cliff Walk
is a gem. It is a 3.5-mile elevated and paved path along the shoreline, passing grand mansion properties, with vast views of the Atlantic. Several entry points allow you to do only a portion if you wish. And, by all means, just walk around the town! In the old downtown, narrow streets are lined with should-to-shoulder clapboarded houses, many bearing plaques with the date of construction – some from the 1700s -- and the owner's name. George Washington will feel very much at home in some of these lanes, where 18th-century structures live on.
Vineyard Visits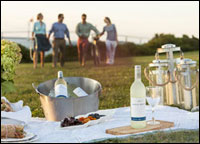 The northern part of Aquidneck Island, where Newport resides, has three fabulous vineyards that are open for tours, tastings, and events like clambakes or art shows. Live music is often presented on the weekends at some vineyards. For instance,
Newport Vineyards
, in Middletown, just 4 miles from Newport, is a pleasure to visit. It has a fabulous restaurant that is cozy in winter and wonderfully light-filled in summer. You need a car or a ride to get to the vineyards from Newport, but they are not far at all.
Shopping
Bannister's Wharf, on Newport's harbor front, off America's Cup Avenue, is hub of Newport activities, including a pier and views of the Bay; access to boat cruises; docking for boats; good dining and shopping; live music and dancing. The wharf has 20 stores, galleries and restaurants, featuring Rhode Island maritime merchandise and cuisine.
On the Water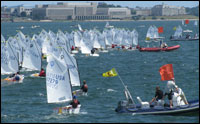 If you are in Newport, you own it to yourself to get out onto the water. Classic Cruises of Newport has three historic vessels (including a Prohibition-era yacht) to take you out onto Newport Harbor and Narragansett Bay for a seagull's eye view of this lovely island. Sail Newport, based at historic Fort Adams (also the place where the Newport jazz festival and folk festival are held) offers access to sailing, paddling and sailboat racing programs to everyone. Get lessons; rent a sailboat.
Walking & History Tours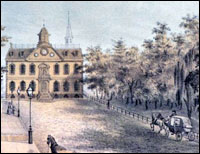 Newport's history through pre-Colonial times, the Revolutionary War, the Gilded Age, and the America's Cup years of the 20th century in downright swashbuckling. Newport History Tours takes you on treks through the stories of ship's captains, pirates, rum runners, yachtsmen, soldiers and more characters of this historic city. Further, the city has some unique
museums
, like Museum of Newport History, the Museum of Yachting at Fort Adams, and the National Museum of American Illustration.
Take a Drive Up Island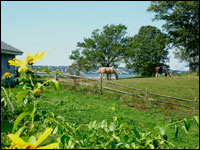 Step out of Newport's charming streets for a 14-mile drive up Aquidneck Island, past farms, vineyards, and water views, to the tiny crossroads town of Tiverton. This Colonial village is quiet, leafy, and bursting with unusual gift & antique shops, galleries, and craft shops.
Evening Entertainment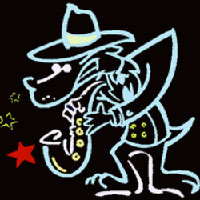 Newport is awash in entertainment, much of it seasonal blockblusters, like the Newport Folk and Jazz festivals. Lots of other music- or food-theme festivals are held all year. See the VisitNewEngland.com
Events
calendar for a roundup of lively music and performing arts.
GOOD EATING
Breakfast

Rosemary & Thyme Artisan Bakery & Café at 382 Spring Street. Very small café and bakery in a pretty residential neighborhood. Wonderful paninis, croissants and more.

Corner Café at 110 Broadway. A big hit at this small place is the Vermont omelette, of all things. Hungry diners also love the sweetbread French toast: lofty!

Scratch Kitchen & Catering at 88 Broadway. Small space, big sandwiches! People love the basic comfort foods, like spud nuggets – supercharged home fries.


Lunch

Brick Alley Pub at 140 Thames Street. Great for lunch and substantial enough for dinner. Busy but relaxed atmosphere; excellent food and plenty of wine choices; lavish soup-and-salad bar.

The Aquidneck Lobster Bar on Bowen's Wharf is a waterfront seafood restaurant & raw bar. Enjoy views of Newport Harbor on all sides while you enjoy fresh seafood. Fine for families.


Dinner

Newport Dinner Theater at 102 Connell Hwy. The theater offers "a great buffet… a wonderful play … and a fun-filled cabaret." Light comedy, murder mysteries, bedroom farce, memoir, and musical comedy entertain you during dinner.

The Black Pearl on Banister's Wharf. This is one of Newport's classic and best-loved restaurants. You are surrounded by the sights of an active marina on the open-air Waterside Patio and your indoor dining is the Commodore's Room and Tavern.

22 Bowen's Wine Bar & Grille at 22 Bowen's Wharf. This upscale restaurant is a world-class steakhouse serving prime beef and excellent seafood, next to an award-winning wine list.

Mooring Restaurant at 1 Sayers Wharf. Top-of-the-catch seafood served with locally grown produce. Enjoy the inspired selection of raw bar delicacies, appetizers, salads, and entrees.

Mamma Luisa at 673 Thames Street. Mamma Luisa is a cornerstone of the restaurant scene on Thames Street. The menu offers exactly what you want when you want Italian food.

Newport Dinner Train at 19 America's Cup Avenue. Newport Dinner Train offers dinner and luncheon trips during a 22-mile sentimental journey along scenic Narragansett Bay. Dine in a vintage rail car meticulously restored to the golden age of railroading, with plush velvet draperies and fine china, silver and crystal set on crisp white linens in the soft glow of candlelight. Offered April through October.