Luxury lodging at four star and five star hotels means hot tubs, balconies, fireplaces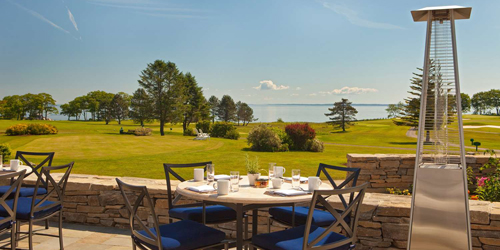 Anyone in the hospitality business will tell you a four-star hotel or five-star hotel rating from AAA or Forbes Travel Guide goes only to lodgings that pull out the stops to achieve perfection. The lodgings on this page -- from glamorous hotels in the heart of Boston to luxury suites in historic Newport -- have earned those ratings. For you, this means a vacation or romantic getaway in place of natural and man made beauty designed to help you feel fabulous.
Consider the pleasures in store: sunset views from an oceanside hot tub in Bar Harbor,
Maine
. Or personal concierge services in the colonial city of Newport,
Rhode Island
; a wood-burning fireplace and views of the Charles River in Boston,
Massachusetts
; nightfall above splendid mountain ridges in
New Hampshire
; or a delightful inn with spa services in
Connecticut
. These examples are just a taste of what the best hotel keepers have in store. Even if it is only once or twice in a lifetime, don't wait to schedule a royal vacation at these jewels of hospitality.