Editor's Choice - Mystic Connecticut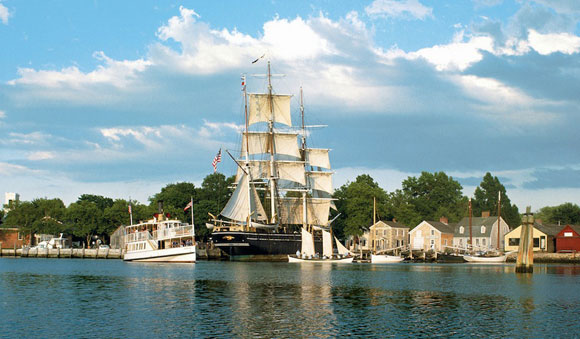 Mystic, CT
is a small town with a big reputation on the Connecticut shore. The town itself, divided by a small tidal estuary that opens to the Mystic River, is compact. Contemporary life on land and on the water chugs along in tandem with buildings and scenery that would fit into life in the 1830s. Big attractions are Mystic Seaport, a busy living history museum that replicates that town's ship-building culture of the 19th century, and Mystic Aquarium, enhanced by a close relationship with the work of Dr. Robert Ballard, the ocean scientist who discovered the Titanic. All around Mystic are perfectly beautiful country drives, inland and along the shore. And, just 10 miles up the road, is the world-famous Foxwoods Casino.
GETTING HERE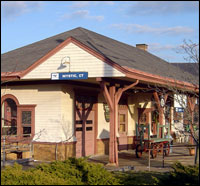 Mystic is 134 miles northeast of New York City; 50 miles south and west of Providence, RI; and 100 miles southwest of Boston, MA. You can get here by car, train, or even by ferry, but to see the sights best, you need a car to wander some of the outlying areas beyond town.
By Car
The town is just a short distance from exit 90 of Interstate 95, the major artery that runs along the Eastern Seaboard. Running parallel to I-95 in Route 1, the old Post Road, which offers beautiful sights along the water but much slower travel.
By Train
Amtrak's Regional Route offers downtown-to-downtown
train service
up and down the Northeast Corridor from Boston to Newport News, VA, with a stop in Mystic. The train station is walking distance from the downtown, but there is no other public transportation around or outside the immediate vicinity of the downtown.
By Ferry
An adventurous trip to Mystic from New York City involves departing by
Cross-Island ferry
from Orient Point, NY, at the eastern tip of Long Island, then taking the Cross-Island Ferry to New London, CT, which is an east 10 miles west of Mystic on I-95. It is not the most quick and efficient way to travel, but the scenery in both states is beautiful and you avoid the famous traffic on I-95.
THINGS TO DO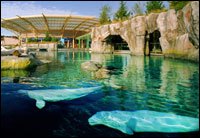 Mystic Aquarium
If you love aquariums, don't miss this one. It's easy to spend hours in the
Mystic Aquarium
. The aquarium has something new happening every new season. Learn about native and remote species like fur seals, African penguins, and beluga whales. There's a National Geographic Theater with nature shows, live sea lion shows, petting areas, and a Titanic exhibit.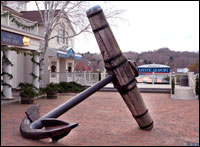 Mystic Seaport
Mystic Seaport
is a living history museum that re-creates an 1830s-era shipbuilding town like … Mystic! It is the home of the Charles W. Morgan, the last surviving wooden whaling ship. See other historic vessels, a town with re-created work places like a ship's chandler and barrel maker, a lighthouse, and a planetarium. The Seaport hosts a lot of seasonal events, like an authentic 1830s Fourth of July celebration and a Sea Chantey festival, Browse a delightful and educational gift shop.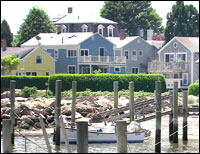 Drive to Stonington Borough
In New England, a borough is a smaller political designation within a town. Take Route 1 and 1A along the shore eastward a few miles to the beautiful, small
Stonington Borough
, a finger of land with just a few long, narrow streets packed with Colonial-era houses and flowering window boxes. Browse the antique shops on Water and Main streets or stroll the harbor front to watch the small fishing fleet going about its business.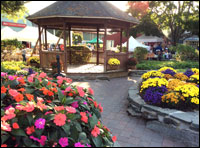 Shopping
Visit Mystic Museum of Arts on Water Street in the downtown and then stroll and window shop past the many delightful stores – selling clothing, art, toys, and jewelry, -- on Main Street in downtown Mystic, ending at the Mystic River Park. Another shopping hub is Olde Mistick Village, located about 2 miles north of the downtown on Route 27. It is a re-imaging nostalgic village with more than 40 places to shop. You can rest by the scenic duck pond, and check out the Victorian gazebo for frequent events and performances.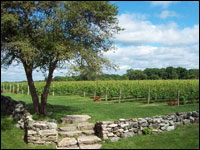 More Driving Tours
Mason's Island, poised like a cork in the bottle just offshore in front of the entrance to the Mystic River, makes a beautiful short drive to see the Sound and nearby island and the town profile. A longer and very beautiful inland drive takes you out of town to Route 184 and to Stonington Vineyards. The vineyard – part of a thriving wine-making community throughout the state – offers tours and tastings and some special events.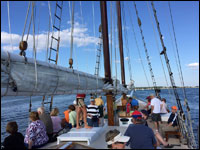 On the Water
Hop aboard
Argia Mystic
from Steamboat Wharf for smooth, water-based sightseeing through Mystic Seaport and the surrounding area, complete with a boat tour, refreshments, and passage underneath the town's iconic counterweighted bridge. The
Black Hawk Party Boat
departs from Niantic, a scenic small town just west of Mystic.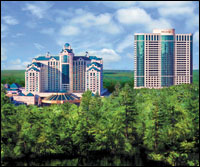 Evening Entertainment
Foxwoods Resort & Casino in Mashantucket, 10 miles north of Mystic, houses two large theaters – Fox Theater and MGM Grand – so if gambling is not your cup of tea, you can still enjoy this hotspot of world-class performances and restaurants ranging from casual to formal. (If you want to make a daytime visit to the casino, consider visiting the huge and high-tech Mashantucket Pequot Museum and Research Center, also on the reservation. It's a fascinating exploration for kids and adults.)
If you want to stay local in Mystic in the evening, pay a visit to the Harp and Hound Irish Pub, right in the downtown. A variety of drinks and cocktails and convivial company converge within a cozy, local atmosphere. There is a weekly trivia night and live music most nights of the week. The pub's website shows the music schedule.
Breakfast
Bartleby's Cafe
on Main Street in Mystic is fun for breakfast. The menu is not vast, but it is adequate and the setting is perfect: cozy chairs, street life to watch through the big picture windows onto Main Street, lots of local people coming and going.
Kitchen Little is located at the Marina on Mason's Island, just a short hop across a bridge from downtown Mystic. The bountiful food makes this place a local favorite. Get out to this pretty island via Route 1 to Mason's Island Road.
Noah's on Water Street in Stonington Borough, a few miles east of Mystic, is a great eatery with all the basic breakfast favorites and plenty of friendly local conversation on all sides.
Lunch
Engine Room Restaurant
on Holmes Street in Mystic is a good place to rest your feet and grab a bite to eat at the center of your day. This tavern-inspired American joint serves plenty of appetizers, fresh hamburgers, and a broad selection of craft beers.
Mystic Market has two locations at either end of town where hot gourmet meals await you. The market served a huge selection of bakery treats made fresh daily, and over 75 cheese varieties. Mystic Market is an excellent pre-picnic pit stop!
Mystic Pizza at 56 West Main Street is the setting of the movie of the same name, and in fact, the movie plays in a continuous loop on one wall. Pizetta is another very good pizza restaurant just around the corner form Mystic Pizza, on Water Street.
Dinner
Abbott's Lobster in the Rough
on Pearl Street in Mystic's neighbor, the waterside town of Noank, is a true lobster shack with raw picnic tables overlooking Fisher's Island Sound.
Water Street Café in the center of Stonington Borough has great food and a cheery, local atmosphere.
S&P Oyster House, in the very heart of Mystic, at 1 Holmes Street, overlooks the activity on the Mystic River and at Mystic Seaport. Good seafood and a party atmosphere.