Editor's Choice - Upper Cape Cod Massachusetts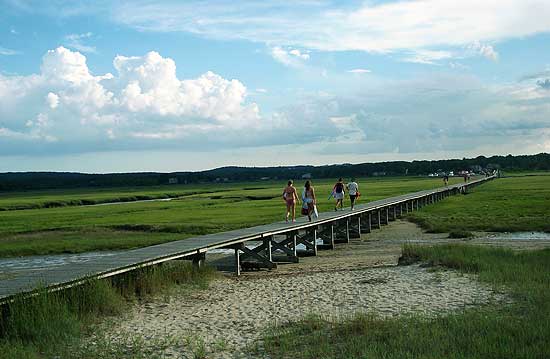 Upper Cape Cod is the common name for the mass of the Cape closest to the mainland. Some of the major towns are Sandwich, Falmouth, and Woods Hole. This area doesn't have the glamour of Provincetown or other well-known Cape Cod communities, and for that reason you can enjoy the charms of this famous peninsula without the crowds you might encounter in the "Mid Cape" or "Outer Cape."
Sandwich is a delightful little town with gorgeous public gardens and a famous boardwalk that lofts across a wide salt marsh from a parking area to the beach. Woods Hole is the home of the famous oceanographic institute. Beaches of the Upper Cape touch upon the calmer, protected waters of Cape Cod Bay and the rougher waters of Buzzards Bay and Nantucket Sound (take a look at the map to orient yourself).
GETTING HERE & AROUND
By Car
By Car, you reach Cape Cod by crossing the Cape Cod Canal via the Bourne Bridge or the Sagamore Bridge.
By Ferry
The Steamship Authority operates
ferries
from Woods Holes to and from the towns of Oak Bluffs and Vineyard Haven on the island of Martha's Vineyard. The crossing is 45 minutes and the ferries take vehicles. Wonderful day or weekend mini-vacation close of Cape Cod.
THINGS TO DO
OUTDOORS
Lowell Holly
Lowell Holly
in Mashpee and Sandwich is a property open to the public for pleasant and easy walks on extensive trails among holly and rhododendron gardens. This pretty peninsula has two freshwater ponds and picnic areas with generous views of the water. Carriage roads follow the shoreline of Mashpee and Wakeby Ponds and pass through the peninsula's beech woodlands. A wonderful place for a walk and a romantic picnic.
Heritage Museums and Gardens in Sandwich
Heritage Museums & Gardens
on Grove Street in the idyllic town of Sandwich, on Cape Cod, defies categorization. Open daily, mid-April through October 31, the property has beautifully landscaped grounds and gardens. A Shaker round barn houses a stunning display of antique cars. An operating hand-carved carousel and many of America's most distinguished artists' works are on exhibit in the Art Museum. Phone: 508-888-3300.
Sandwich Boardwalk
Come and stroll the naturally inspiring Sandwich boardwalk, which runs through Mill Creek and beautiful marshes. This serene walk vaults very gently across a wide expanse of tidal salt meadow, where you'll cross a magnificent panorama to reach a beach on Cape Cod Bay.
DRIVE TOURS
Drive Along Old King's Highway (Route 6A)
Route 6A, also called the
Old King's Highway
, is a relaxed drive along a gently curving road that skirts the shore of Cape Cod Bay from Bourne all the way to Orleans. It travels through small town centers bursting with flower gardens and clapboarded homes. Along the way are distinctive galleries, boutiques, and antique stores.
INDOORS
Green Brian Nature Center and Jam Kitchen
Thornton Burgess's Green Briar
Nature Center and Jam Kitchen
is a real Sandwich treat. This natural history hub includes gardens, a natural history exhibit, and a kitchen where folks of all ages can create their own batch of homemade jam. Make an edible souvenir to preserve the flavor of the Upper Cape!
Shopping in Falmouth

Find a world of possibilities. Discover handmade gifts like pottery and jewelry, check out old-fashioned country general stores, and shop chic boutiques to add some Cape Cod flair to your wardrobe. Check out the various galleries, apparel stores, and gift shops on and around Main Street.
Sandwich Glass Museum
Sandwich was home to a glass factory throughout much of the 19th century. This museum features exhibits of glassware made from 1825 to 1888. You will be delighted by the artistry of the glass work found here. It's also a great place to pick up gifts for yourself of friends back home. Glass blowing demonstrations are held occasionally. Hours vary seasonally.
ACTIVE
Shining Sea Bike Trail
Mosey down Locust Road from Falmouth Center to find a Cape treasure: the
Falmouth Shining Sea Bikeway
, which offers a 3.3-mile ride on mostly level terrain. Go at your own pace on this aptly named, paved path through scenic salt marsh, cranberry bogs and farmland, and ocean vistas that are well worth a little sweat!
South Cape Beach State Park
South Cape Beach State Park
off Great Oak Road in Mashpee has a barrier beach and dunes, a salt marsh, pine woodlands and small freshwater ponds. This stellar swimming area is wedged between scenic Vineyard Sound and a saltwater bay.
Ocean Quest
Ocean Quest
launches exciting cruises out of Woods Hole, like Marine Discovery expeditions and family fishing cruises. Enjoy the scenic vista as you sail away from shoreline to explore and interact with Atlantic sea creatures. Discovery Cruises are hands-on journeys featuring live marine animals to touch and watch on the boat.
GOOD EATING
Breakfast
Moonakis Café, located on Waquoit Highway in East Falmouth, has received rave reviews from satisfied families and couples for their superb breakfast menu and fast service.
Lunch
Café Chew at 4 Merchant's Road in Sandwich boasts large portions of savory Massachusetts sandwich creations, fresh ingredients, and open-air seating.
Grab a bite to eat – or several – for lunch or dinner at Flying Bridge Restaurant in Falmouth, a truly New England waterfront dining experience with outdoor seating under the Cape Cod sunshine.
Dunbar House Restaurant and Tea Room on 1 Water Street in Sandwich is a genuine treat. It started life as a 1740 carriage house and now it has the tone of an elegant British tea room, serving British ales and European wines, ports and sherries. Plan a relaxed lunch or Afteernoon tea, tapas hour or dinner. Dine by the fireplace in winter or on a sunny patio in summer.
Dinner
At the Daniel Webster Inn's Tavern in Sandwich, guests can enjoy American fare such as sandwiches and drinks in a historically decorated pub atmosphere, with live acoustic music every Friday night.
In the summertime, Coonamessett Farm in East Falmouth hosts fun and informal buffet dinners under an open tent twice a week. Wednesdays are Jamaica night, with live Jamaican music and zesty Caribbean food. Fridays are family farm dinner buffets. Stroll the farm after dinner; lean on a fence and chat with farm animals; visit the ice cream shack. Fun for kids and adults!