Beaches, Lobsters & Lighthouses in York, Maine
---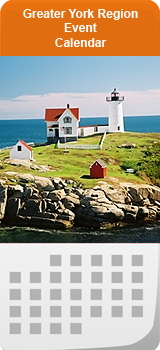 Find more great things to do and places to visit in this region.
The coast of Maine is deliciously cozy place to retreat for glorious beaches, classic family summer fun, good food or romance. The famous beaches -- York's Harbor Beach, Long Sands Beach, Short Sands Beach, Cape Neddick Beach or Kittery's Fort Foster Beach -- are a magnet for sunbathers, swimmers, and anyone who loves the beauty of sand and surf. Get out in the evening for sunset or to see the stars light up the night.
Famous Maine fare will have you yearning for meal times: lobster in a creamy bisque or surrounded by steamed clams, corn on the cob and roasted red potatoes in the classic lobster dinner. Maine's signature shellfish is served at waterfront dining or at cheerful family eateries.
York is famous for its wide, sandy Long Sands and Short Sands beaches, where families enjoy every form of beach and water play all season long. The town is home to the Nubble (Cape Neddick) Light on an island close to shore. People enjoy it with gusto from neighboring Sohier Park; the annual Christmas lighting and community party is a favorite. York Wild Kingdom is great fun exploration of animals from around the world. History buffs will enjoy the Museums of Old York and Jefferds Tavern, hosting many educational and social events all year.
Lodging accommodates the needs and budgets of all types of visitors. Popular lodgings are beach and ocean resorts, where the threshold of the ocean is at your toes, along with very nice services and amenities. This is the ultimate place for romantic getaways ; enjoy the outdoors and then cuddle up inside, or take a break from indoor living to shop at the iconic Kittery Trading Post or enjoy dinner and live music at the delightful Jonathan's Restaurant.