Top 10 Ice Cream Shops in New England
New England is an ice cream haven. Take the whole family out for top-quality, homemade ice cream. Watch as the ice cream shop owner creates a fresh batch of your new favorite flavor. Taste free samples, enjoy endless sundae toppings, or visit the dairy farm that made the cream in your cone. Kids will adore the sweet and creamy tastes of special New England flavors.
2 West Main Street Mystic, CT Phone: 860-572-7978
Known a hundred years ago as "The Riverside Ice Cream Garden," this one-stop sundae shop offers perfectly homemade ice cream. Boasting "The Best" ice cream possible, Mystic Drawbridge Ice Cream uses fresh ingredients to make one batch of frozen goodness at a time. Special touches like cream from the local dairy and reduced air content make for seriously good fun. While you're here, try its variety of homemade candies. Information: www.mysticdrawbridgeicecream.com

915 Mitchell's Lane Middletown, RI Phone: 401-847-3912
Called the best ice cream in New England by Yankee Magazine, Susanna's Ice Cream at Sweetberry Farm has an unbeatable selection of flavors with the charm of a small operation. Susanna's flavors change with the seasons, since most include fresh fruit from Sweetberry Farm. All-natural summer flavors like Rose Petal and Strawberry Champagne are just a taste of Susanna's delicious creativity. Locally sourced and lovingly made, this is a must-try ice cream shop.
175 Milton Road (Route 125 North) Rochester, NH Phone: 603-332-1809
This rustic homemade ice cream shop announces its weekly flavor specials on its active Facebook page, where it also receives lots of local love and support. Lone Oak's Maple Crunch ice cream uses locally produced maple syrup -- yum! Not in the mood for ice cream? Order from a fairly-priced menu of favorite American foods, or explore the gift shop. Open 11 a.m. 'til 10 p.m. daily.
2165 Post Road (US Route 1) Wells, ME Phone: 207-646-5454
This family business offers 41 homemade flavors of old-fashioned ice cream served in traditional items like hot fudge sundaes, fresh waffle cones, and malted frappes. Many flavors are available in low-fat or sugar-free options. Try Big Daddy's popular Maine Blueberry and Maine Peach flavors, or create your own tasty sundae concoction and enjoy your treat in the sunshine at a picnic table.
1255 Cambridge Street Cambridge, MA Phone: 617-492-7021
Offering a minimum of 50 homemade flavors daily, Christina's Ice Cream has both quality and quantity in its favor. Try some of the most unique and creative ice cream flavors made with fresh ingredients. Many flavors are created using spices from Christina's Spices next door, and both shops are within Inman Square. Grab a cone of Burnt Sugar ice cream, sit on a bench and people-watch or window shop.
1053 Route 302 Bartlett, NH Phone: 603-374-2288
This ice cream has been called "better than Ben & Jerry's," and every homemade cone comes with a stunning view of the White Mountain landscape. The playground is the perfect place to let the kids unwind while you take in some scenery. Trail's End has notoriously large portions, so be careful what you wish for at this popular New Hampshire creamery.
846 Main Street Westbrook, ME Phone: 207-854-0500
A Maine favorite with a famously friendly owner who offers free samples and large portions for low prices. Enjoy a flavor of your choice sandwiched in between two homemade cookies. With flavor options like Sweet Corn & Basil, Salted Chocolate, and Strawberry Balsamic, as well as traditional flavors, Catbird Creamery ensures a delectable new ice cream experience. Information: https://plus.google.com/100911321768028710355/about?gl=us&hl=en

Five locations; see shop website and link below Hamden, Branford, New Haven, Guilford, and Madison, CT Phone:
Ashley's Ice Cream has five popular locations in the scenic shore towns of the New Haven region. Ashley's uses fresh ingredients like just-whipped cream, homemade toppings, and all-natural flavors. Non-fat, sugar-free soft serve yogurt in indulgent flavors like Cheesecake is a creamy and low-calorie alternative to ice cream. If you're celebrating a birthday, take home one of Ashley's Oreo-crusted ice cream cakes.
Locations.
921 Boston Neck Road Narragansett, RI Phone: 401-789-1784
This homemade ice cream shop near the beach has ample parking for its daily crowds, as well as award-winning taste. Brickley's boasts a long list of flavors to choose from, so ask one of the friendly employees for a free sample (the Coffee and Ginger flavors are a Rhode Island favorite!) Another family-run operation, Brickley's Narragansett location can be very busy, so consider grabbing a pint of its ice cream to go. Information: www.brickleys.com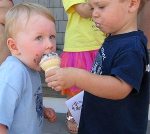 606 Main Street in Harwich Port; 381 Lower County Road in Dennisport; 210 Main Street in East Orleans Harwich Port, Dennisport, East Orleans, MA Phone:
Come here for homemade ice cream made batch-by-batch in a family atmosphere. Enjoy fruity flavors with real fruit blended in, and candy- and liquor-based recipes. The East Orleans location has patio seating for your stop on the way to or from popular Nauset Beach. If you're out late, Sundae School is open in Dennis Port, Harwich Port, and East Orleans 'til nearly midnight.