Top 10 Fall & Harvest Festivals
This hay-bale cows (at the Killington, VT, Hay Festival) are just a sample of the fun at the many Fall and Harvest Festivals in New England in the autumn season. If you are planning a country or scenic drive to enjoy the fall foliage, plan a stop at festivals brimming with seasonal foods, arts and crafts, live music, kids games, outdoor fun, and maybe gigantic hay animal sculptures. Here are some of our favorites.
Roseland Cottage, 556 Route 169 Woodstock, CT Phone: 617-994-5914
October 14-15, 2017
Roseland Cottage Fine Arts and Crafts Festival is one of the leading juried fine arts and crafts shows in New England. This two-day event features 175 artisans and their wares: jewelry, woodworking, pottery, glass, toys, paintings, clothing, metalwork, and much more. Visitors, many of whom return year after year, enjoy live music, a food court, and first floor tours of Roseland Cottage.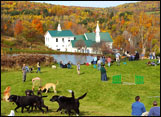 Dog Mountain, 143 Parks Road Saint Johnsbury, VT Phone:
October 7, 2017
It's the most beautiful time of the year in New England, and it's time once again to celebrate the season at Dog Mountain's annual Fall Dog Party! Expect to fin activities for the whole family: foot-tapping live music, to a bounce house for the kids, door prizes, food, dog contests, and more. Time: Noon-4 p.m. Dog Mountain is set on 150 acres on a private mountaintop spot. The grounds are always open to people and their dogs. The unspoiled haven is covered with hiking trails and dog ponds. There is no leash law on Dog Mountain.
13 Bowen's Wharf Newport, RI Phone: 401-849-2120
October 14-15, 2017
The waterfront and wharves of Newport Harbor are a fun visit anytime, for shopping, gawking at people and boats, and enjoying a historic downtown. This popular festival offers fresh, local seafood like fish tacos, lobster rolls, fried calamari, signature cocktails and cold beer, all under tents. Sit anywhere on the Wharf. Live music by a mixture of top-rated bands, Held rain or shine.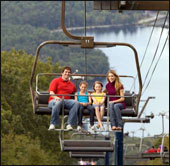 Wachusett Mountain, 499 Mountain Road Princeton, MA Phone:
October 14-15, 2017
If you've never taken a ride in a chair life above the mountain foliage in the fall, here's is your chance to do it. Views are magnificent, and not at all like seeing the colors from the ground. This apple celebration in the beautiful Berkshires also entertains with a craft fair, farmers market booths, entertainment, a barbecue, pony rides, clowns, climbing wall, jugglers and magicians for the kids. In keeping with the time of year, you will find tasty beers for the adults, too.
Village Green, Route 116 North Scituate, RI Phone:
October 7-9, 2017
Attending this festival – with a long history and hundreds of fans – will take you on an exploration to the less-well-known interior of Rhode Island, where farms and pretty village reign. Enjoy hundreds of vendors and displays, ranging from fine art to knickknacks and collectibles. You will smell the kettle corn and feel the zest of autumn and all-around good spirits in every corner of town. Buy a candied apple and settle in to enjoy some live music, too.
Fort Trumbull and the New London waterfront New London, CT Phone:
September 8-10, 2017
Magnificent sailing ships are on vivid display at the four-day festival. Visitors will enjoy a lighted boat parade, visits by aTall ship and schooners from up and down the East Coast, a schooner race, a maritime art show, the popular New London Chowder Challenge and tours of vessels of the United States Coast Guard, United States Navy and local police departments.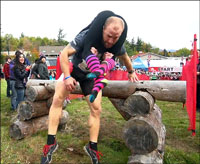 Sunday River South Ridge Base Area,15 South Ridge Road Newry, ME Phone:
October 7, 2017
Can you really go through life knowing you've missed a chance to see a true Finnish-style wife-carrying championship? Ok, maybe you could. Still, it's a hoot to watch couples compete in this race for the grand prize of the wife's weight in beer and five times her weight in cash. Also: pumpkin pie eating contest, Blue Mountain arts and craft fair, Sunday Bloody tent (dedicated to all things Bloody Mary), and scenic chairlift rides!
The Elms, Marble House and Rosecliff, Bellevue Avenue Newport, RI Phone:
September 21-24, 2017
For quality of its content, glamour, a beautiful setting, and just all-around oomph, the annual Newport Mansions Wine & Food Festival is the queen of them all, The most sophisticated producers and connoisseur of wine and food in one of the country's most glorious settings. Enjoy conversation with Martha Stewart & Jacques Pépin; Grand Tastings on the lawn of Marble House; celebrity chef appearances and cooking demonstrations.
Many locations in Portsmouth Portsmouth, NH Phone:
September 23, 2017
This old and historically maritime town at the juncture of river and ocean really knows how to celebrate the very-much-alive history of its maritime music. Come watch a crew of maritime singers, shantymen, and privateers open the festival in the Market Square, singing and playing at they walk through the town. The festival includes a concert and Maritime Open Sings, where everyone is welcome to add a voice to sea shanties. Lots of events are in restaurants – easy access to victuals and throat-cleansing grog.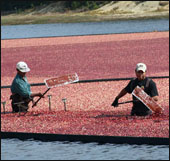 A.D. Makepeace Co., 158 Tihonet Road Wareham, MA Phone:
October 7-8, 2017
You've met the cranberry over and over on the Thanksgiving dinner table. Now, come and join a new experience to learn where the cheery red berry grows and how it is harvested and prepared for your annual feast. Visitors to the Harvest Celebration will see demos of the cranberry harvest, cooking with cranberries, a tent packed with juried crafters. Also, enjoy paddleboat rides on Tihonet Pond, food vendors, music, and more.