Spas All New England
New England spas cover the gamut of health treatments
The qualities that make New England a restful vacation destination apply also to resorts, hotels and inns that offer spa services. On a New England wellness getaway, your day of spa treatments is bracketed by all the pleasures of these historic states. Enjoy autumn foliage from the picture windows of a spa in the northern mountains. Feel the cool scent of blueberry in a masque at a Maine spa. Get a massage before going out on the town in Boston or Newport. It's all here.
Connecticut spas treat you like royalty on your getaway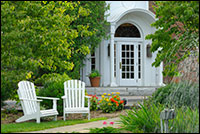 Health spas in Connecticut will pamper you with a massage, facial, manicure or long soak in a hot tub, and then turn you loose to enjoy the relaxed pleasures of this state, with deep roots in New England Colonial history. Near the coastline, enjoy treatments, then a deluxe dinner before attending a live show at theaters that have hosted Broadway troupes. In the Litchfield region, a spa treatment is a perfect match to a day of antique browsing or tastings at wineries.
Maine spas incorporate elements from forest to sea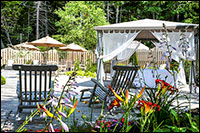 The simple act of stepping into the state of Maine will make you feel healthier from the get-go, so adding on a layer of skin care treatments, massage or hydrotherapy is like gilding the lily, so to speak. At least one Maine spa adds blueberries to its facial masque, and others have big picture windows and lovely patios to invite sea breezes or mountain views to join the healing process. Come relax and rejuvenate in the forests or in Bar Harbor, next to gorgeous Acadia National Park.
Massachusetts spas serve you in cities, mountains, and at the shore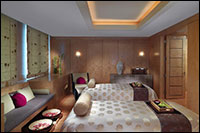 Massachusetts probably has the most variety within a single state in New England, so it follows that its spas and wellness centers would have many different faces, too. In Boston, you can enjoy deluxe treatment in elegant hotels that have served discerning visitors for generations. Be assured, the quality of treatment will be first-rate. Moving outward, spas in Cape Cod place you near summer-hued fun and in the western Berkshires, one resort offers spa services and golf.
New Hampshire spas overlook majestic scenery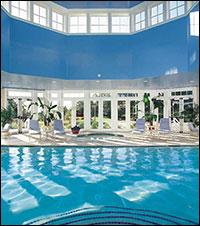 The White Mountains of New Hampshire are loved for their majestic beauty in all seasons of the year, and spas in that region don't hesitate to enlist the healing mountain views from some lounges and treatment areas. New Hampshire's oceanfront beach towns also use the great outdoors in their health and wellness treatments, welcoming sea breezes into your stay. In New Hampshire spas, you'll find all the spa services you can imagine to help you feel cleansed and refreshed.
Rhode Island spas wash away every ache and worry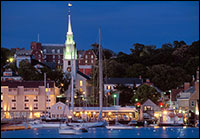 For generations, visitors have discovered and loved the Oceanside and bayside beauties of Rhode Island, counting the Colonial city of Newport as one of the vacation treasures of the East Coast. The wealthy industrialists of the Gilded Age were bound up in corsets and stiff furniture, but we're lucky. Newport spas invited you to indulge the comforts of the flesh with a deep tissue massage, hydrotherapy for the skin, soaks in hot water, hot stones, and manicures. Soothing!
Vermont spas focus on healthy and outdoor living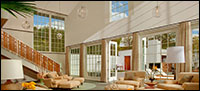 Vermonters cherish their Green Mountains and sparkling blue Lake Champlain, where they do plenty of outdoor sports and cultivate a strong farm and foodie culture. Immersed in this ethic of health and wellness, you can even raise the ante by seeking treatments at spas that offer all the usual skin care and muscle treatments, and more. The "more" includes yoga, hikes in the woods and mountains, fresh food, and the simple joy of lying back and breathing mountain air.