New England Fall Savings | Lodging Packages, Deals on Hotels, Vacations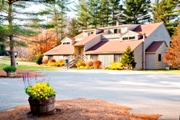 1 Seasons at Attitash Road Bartlett, NH, 03812 Phone: 603-374-2361 Toll-Free: 800-332-6636
Extended Stay Packages
One or two nights won't give you enough time to enjoy the White Mountains, The Seasons offers extended stay packages for stays of 3, 4 or 7 nights. The Seasons understands that with so much to do in the White Mountains you need more than just a couple of days to thoroughly enjoy the area's many attractions and amenities! By extending your stay, you not only do you give yourself adequate time to enjoy everything, you receive special rates as well! These specials are available throughout the year with minimum restrictions call for details!
74 South Main Street Ogunquit, ME, 03907 Phone: 207-646-9661 Toll-Free: 800-633-8713
October a dazzling month at scenic Ogunquit resort
Who can resist beautiful Southern Maine in the glorious autumn? Take advantage of several October weekend packages at the Meadowmere Resort, including the Columbus Day Weekend Package (apple picking, scarecrow contest, farm-to-table dinner), the Harvestfest Celebration Package (head to Ogunquit for a pumpkin stroll, lobster rolls, live entertainment, a Native American pow-wow, juried crafts sales) and the OgunquitFest Package where the resort is right in the middle of the fun, from the Maine Outdoor Film Festival to hay rides, a classic car show, ghostly tale-telling and a costume parade. Need more autumn ideas? How about a mountain hike or, back at the resort, a dip in the indoor pool or a few hours in the spa.